Battery Recycling
Call2Recycle Household Battery Recycling & Disposal
Call2Recycle offers convenient options for responsibly recycling your old batteries. Whether you only have a few batteries or generate larger quantities, need a one-time option or ongoing solution, Call2Recycle has you covered.
UPDATE: Call2Recycle remains dedicated to providing you with top-tier battery collection and recycling services, along with a range of safety solutions. Over the years, we have strived to maintain competitive pricing while delivering a safe, high-quality program. To address the rising costs associated with these products and services, the following pricing adjustments will be effective January 15, 2024.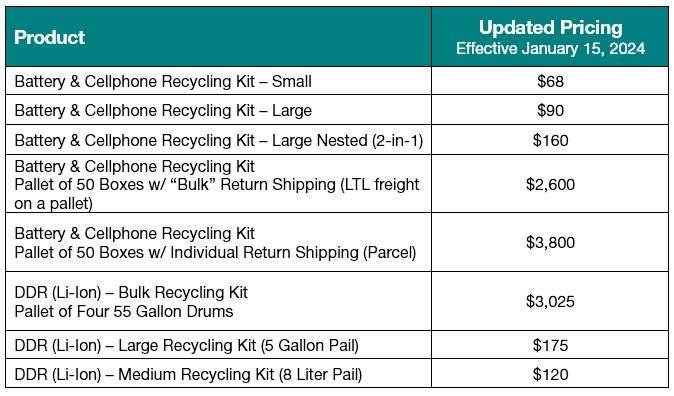 Rechargeable Battery Box Program
Mandatory battery safety training

You will need to have 1 on site operator go through their training by the end of this year
Training needs to be repeated every 6 months

If your facility does not get anyone trained, then your account will be suspended until training is completed

NRRA recommends you have all operators do the training since batteries are a big hazard



Pricing

Call2Recycle will start charging for the batteries starting in January

You can still use your current supply of boxes and there will be no charge even if you ship the box out after January

When you need new boxes you need to purchase them using their online store at

www.call2recycle.org/store

Their new pricing can be found at

https://www.call2recycle.org/twenty-twenty-four/

Guidelines for Shipping in Call2Recycle Boxes
Single-Use Battery Recycling Option
Call2Recycle has expanded its battery recycling program to include a new single-use Battery recycling option; This service includes all battery recycling of household batteries (alkaline/ single-use) under 11 lbs. as an option for collection sites.
---
Lithium Battery - Handling Options
---
Damaged Batteries
Call2Recycle offers a kit for damaged batteries.
Please make sure you let Call2Recycle know you heard about them from NRRA. Thank you!
---
Additional Battery Recycling Options
If you so choose each of NRRA's electronic recycling vendors will take batteries when they come and pick up your electronics. Their prices do vary by battery type (chemistry) and by vendor. If you would like pricing from our vendors, please feel free to reach out to our Member Services team at 603-736-4401 or via email at info@nrrarecycles.org.