Run Your Own Campaign (Instructions)
How to Run Your Own Recycle Right Campaign:
From one week to several months, you get to choose how long your recycling education campaign will be! The calendars below include our suggestions for how to schedule social media posts about recycling or which posts to combine for a recycling email. Download the campaign you are interested in running (in pdf form) and then click on the title of the post you would like to share. It will open to the post on the NRRA Recycle Right website. From there, you can click "share" to share to Facebook, or you can download the image, copy the text to your clipboard, and paste it into a website or email.
---
The Greatest Hits - 4 week campaign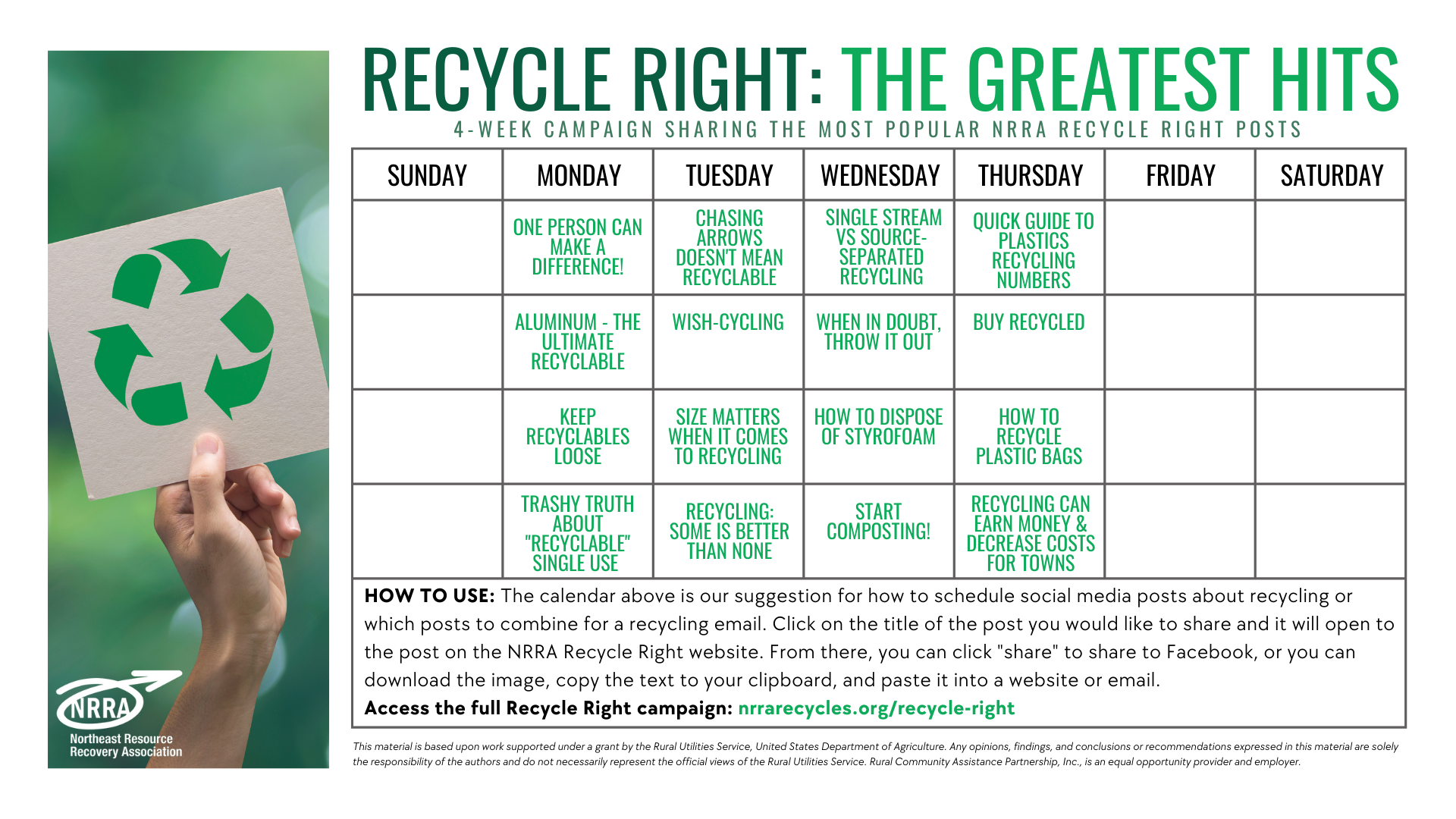 DOWNLOAD "GREATEST HITS" CAMPAIGN
---
The Nitty-Gritty of Recycling - 5 week campaign

DOWNLOAD "NITTY-GRITTY" CAMPAIGN
---
One Week Wonder - 1 week campaign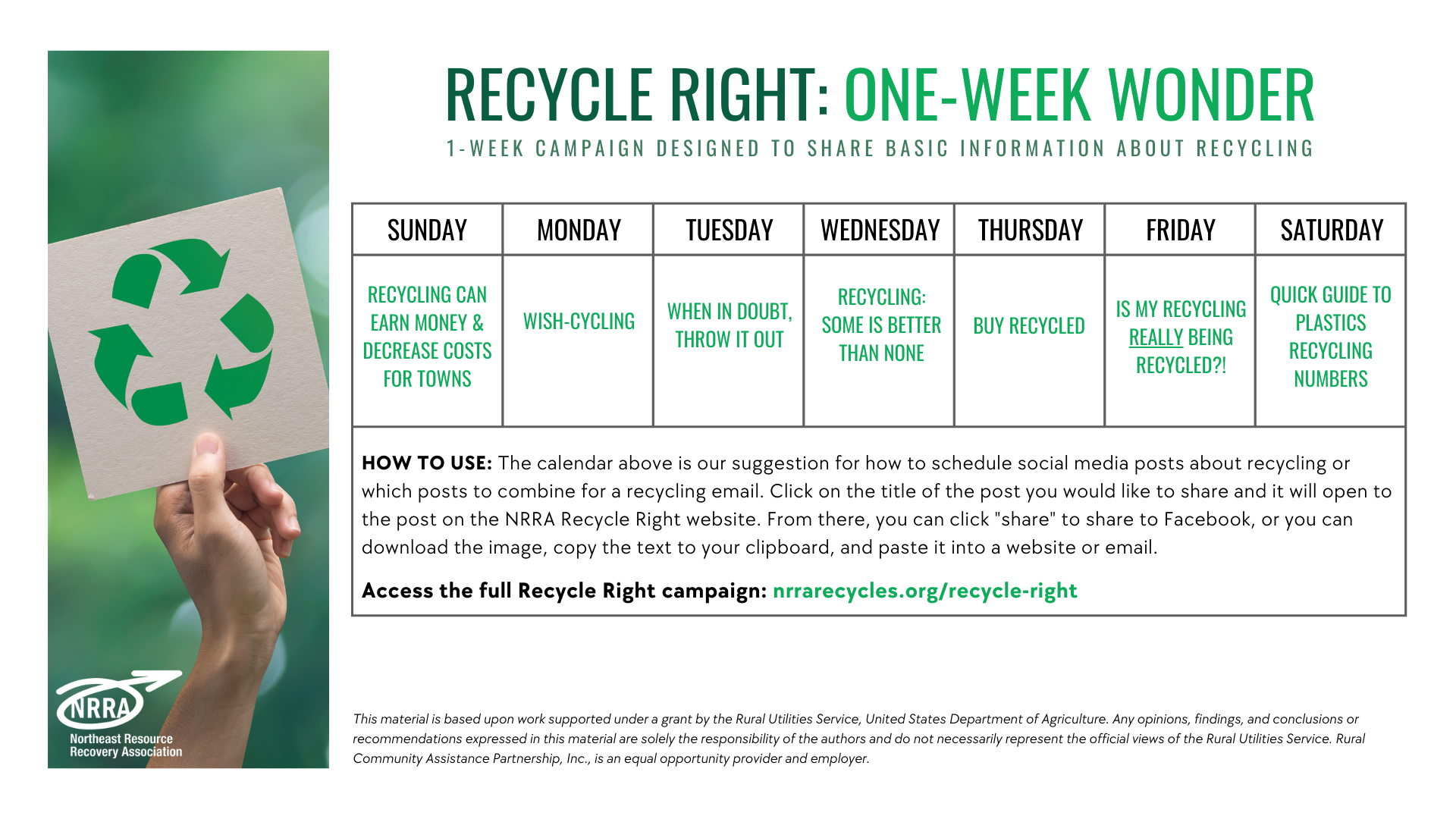 DOWNLOAD "ONE WEEK WONDER" CAMPAIGN
---
The Recycling Habit - 16 week (4 month) campaign

DOWNLOAD "RECYCLING HABIT" CAMPAIGN
---
The Source-Separated Town - 8 week (2 month) campaign

DOWNLOAD "SOURCE-SEPARATED" CAMPAIGN
---
How Do I Recycle THAT?! - 5 week campaign

DOWNLOAD "HOW DO I RECYCLE THAT" CAMPAIGN
---
The Contamination Kicker - 3 week campaign

DOWNLOAD "CONTAMINATION KICKER" CAMPAIGN
---
Focus on the Money - 3 week campaign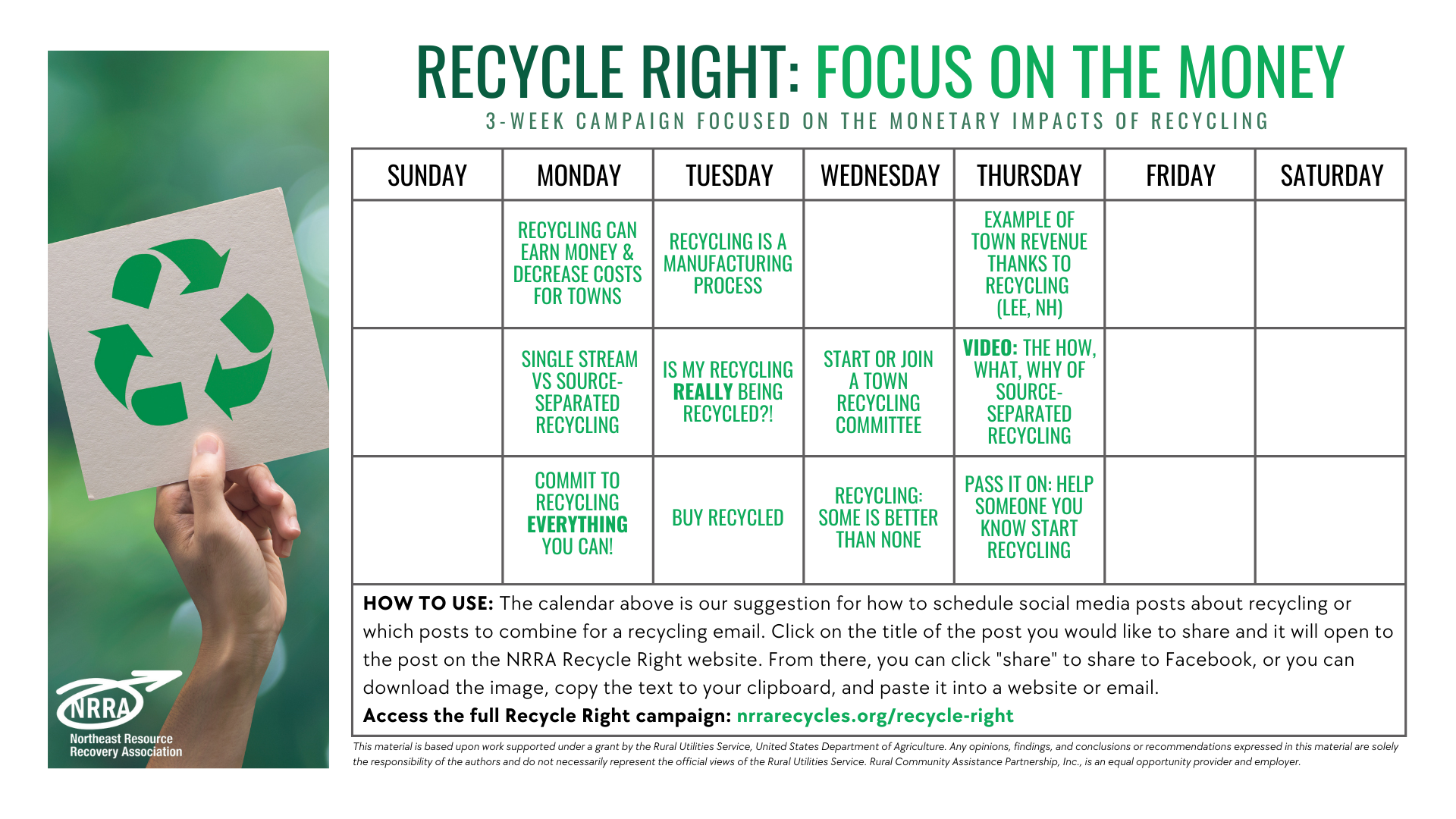 DOWNLOAD "FOCUS ON THE MONEY" CAMPAIGN
---
Focus on the Environment - 4 week campaign

DOWNLOAD "FOCUS ON THE ENVIRONMENT" CAMPAIGN
---
Focus on Glass & Aluminum - 2 week campaign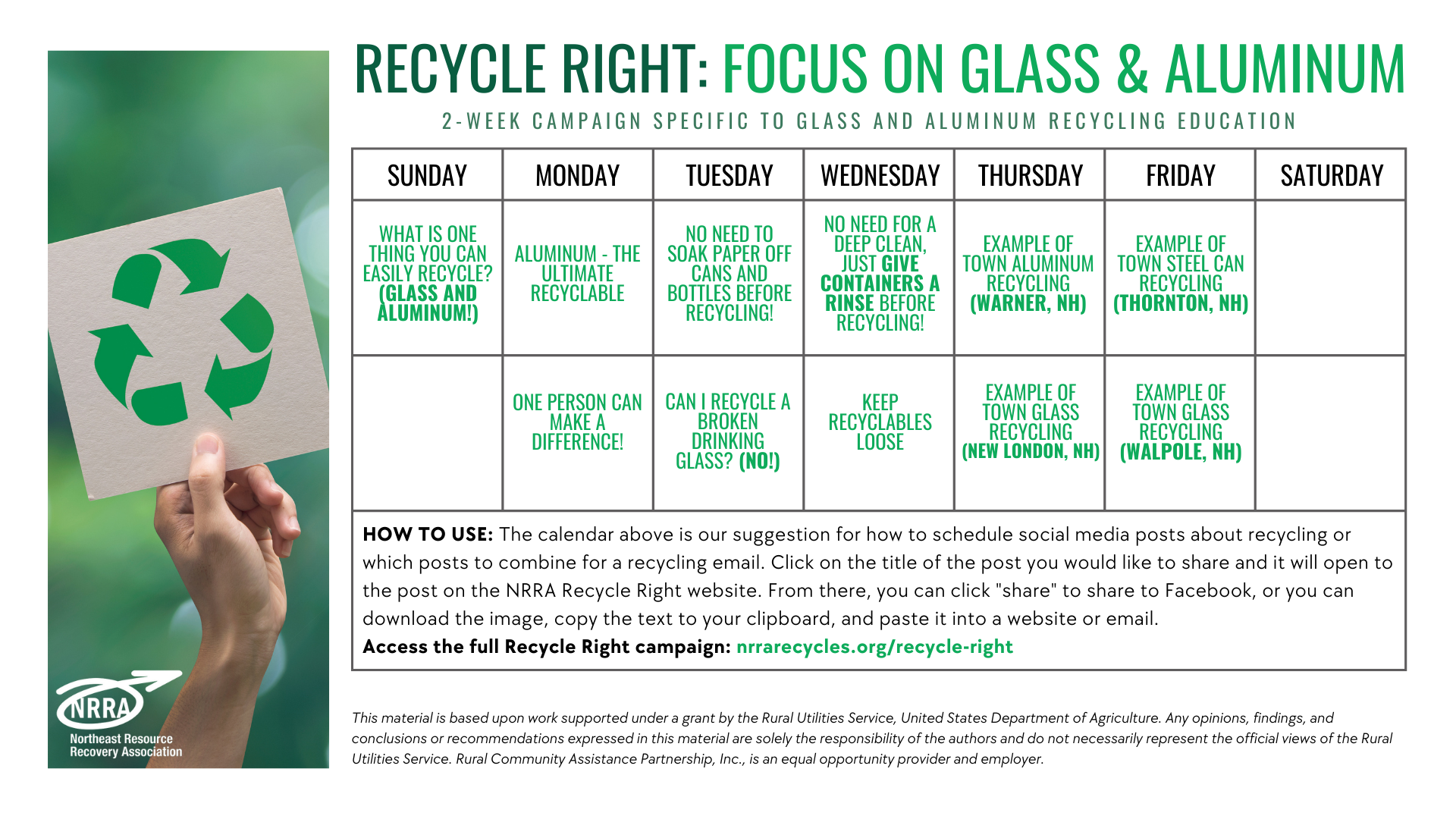 DOWNLOAD "FOCUS ON GLASS & ALUMINUM" CAMPAIGN
---
Focus on Paper & Cardboard - 3 week campaign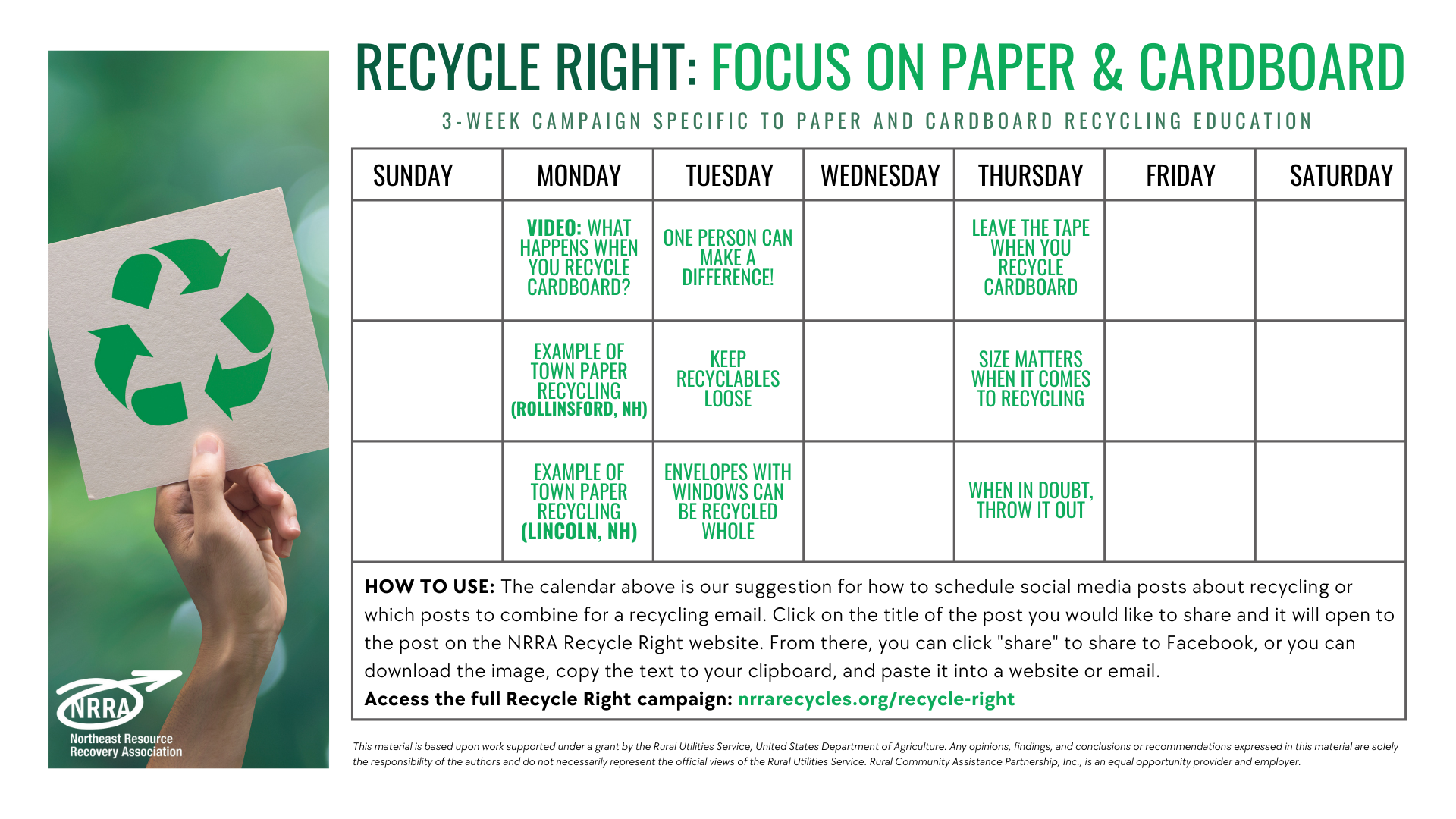 DOWNLOAD "FOCUS ON PAPER & CARDBOARD" CAMPAIGN
---
Focus on Plastics - 3 week campaign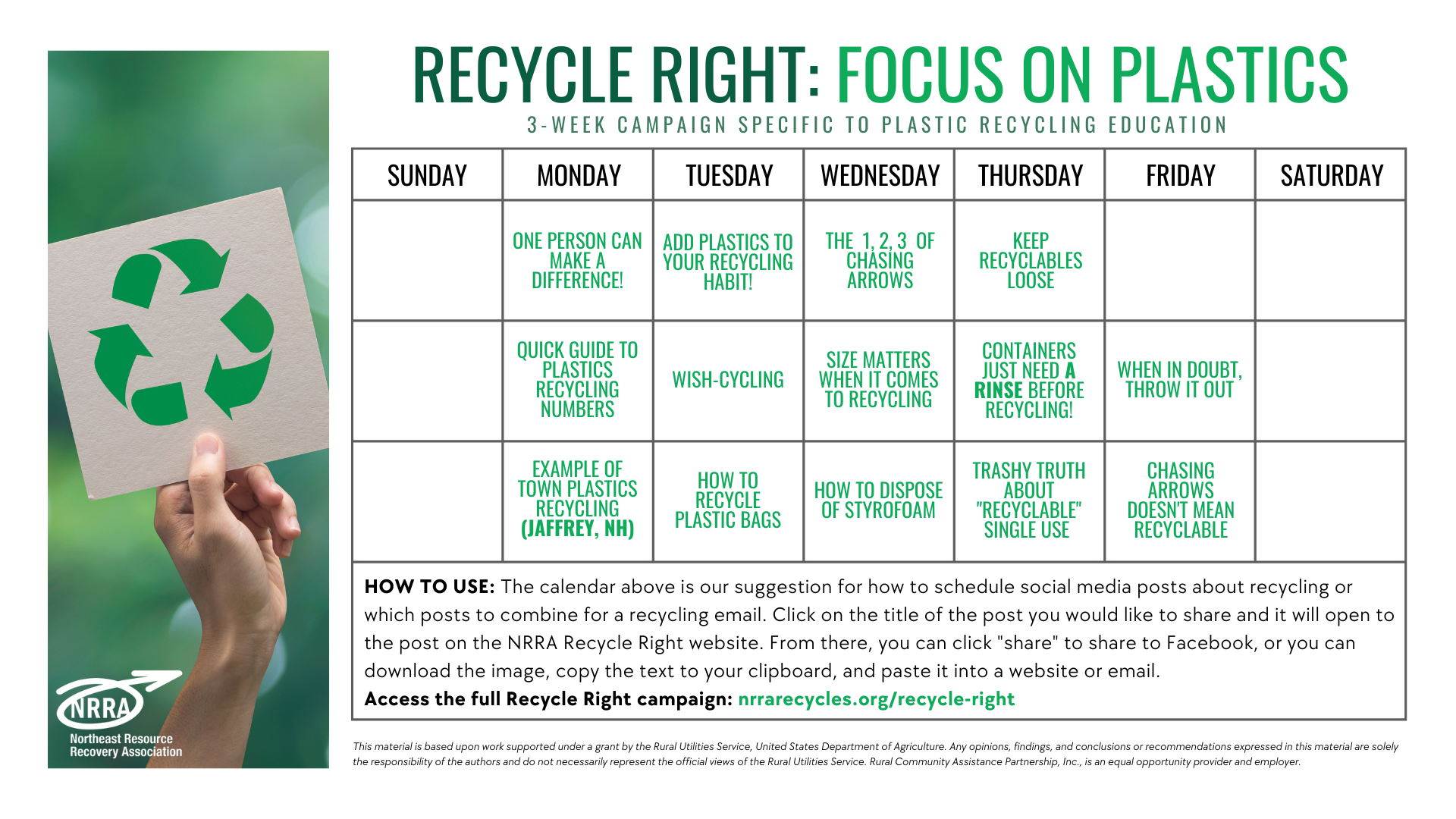 DOWNLOAD "FOCUS ON PLASTICS" CAMPAIGN
---