Pay As You Throw Toolkit
Pay As You Throw (PAYT) is a waste reduction model where residents pay for the trash - the Municipal Solid Waste (MSW) - they produce.
PAYT is also known as "unit-based pricing." Customers (residents or visitors) pay for the amount of waste they generate, versus a "flat rate" program where everyone pays the same amount no matter how much - or how little - waste they create.
PAYT has been shown to decrease MSW and increase recycling, as residents do not have to pay to recycle.
In this Pay As You Throw Toolkit, you will find the basics for PAYT in a video (coming soon!) and a printable resource, several resource links for operators, helpful articles to share with residents, and case studies.
Need help or have a question? Reach out to our Member Services team by email or by calling: 603-736-4401
PRINTABLE PAY AS YOU THROW CONSIDERATIONS PRINTABLE
Key Takeaway: Using a Pay As You Throw fee structure can be a cost-effective way to increase recycling while diverting municipal solid waste.
WHAT TO DO
When implementing a PAYT system, there are some important considerations:
PICK A PROGRAM: There are several PAYT options that may work for your community

Bag Program, where residents cover the cost of their MSW services by purchasing specific town bags to be used for their trash.
Punch-card system - residents purchase a punch card and get one punch per bag of trash thrown.
Sticker or Tag system - residents attach pre-paid stickers or tags to each bag of trash they thrown.
Weight-based system - residents pay a fee based on the weight of their MSW.
Cart or Can system - for those with curbside pick-up, residents are charged based on the size of their container (eg. 35 gallon, 65 gallon, or 95 gallon cart)



EDUCATE: including your town officials (Select Board), town administrator, director of public works, and of course, your residents and other community members!

Folks need to know WHAT program you are implementing, HOW it works, and WHY it's important.
Education needs to start EARLY. Aim for at least 6 months to a year prior to program implementation.



BUDGET: prior to starting a new PAYT program, create a separate PAYT budget. This will help capture and track the costs and revenues specific to the program. You will also want to decide what costs your PAYT program will include. Will it cover all costs associated with collection and disposal of MSW and recyclables? Or just a portion of those costs? Only tipping fees? Transportation? Labor costs? Additionally, you need to include estimates for the total waste once PAYT is established, start-up and on-going costs, and an estimate for the per container price needed to meet program costs.


POLICY: beyond creating your community's PAYT program plan - the who, what, where, and how it will work - there are additional policy considerations. How will you accommodate low-income, physically handicapped, and elderly residents? How will you accommodate residents of multi-family units?


PUT IT TO THE VOTERS: to implement a new PAYT program, you must have town support. Create a warrant article for the annual meeting to adopt PAYT. This should be the final step and, once complete, you're ready to begin your new PAYT program!
PAYT RESOURCES FOR OPERATORS
PRESENTATIONS
HANDS-ON RESOURCES
WEBSITES
ARTICLES FOR RESIDENTS
CASE STUDIES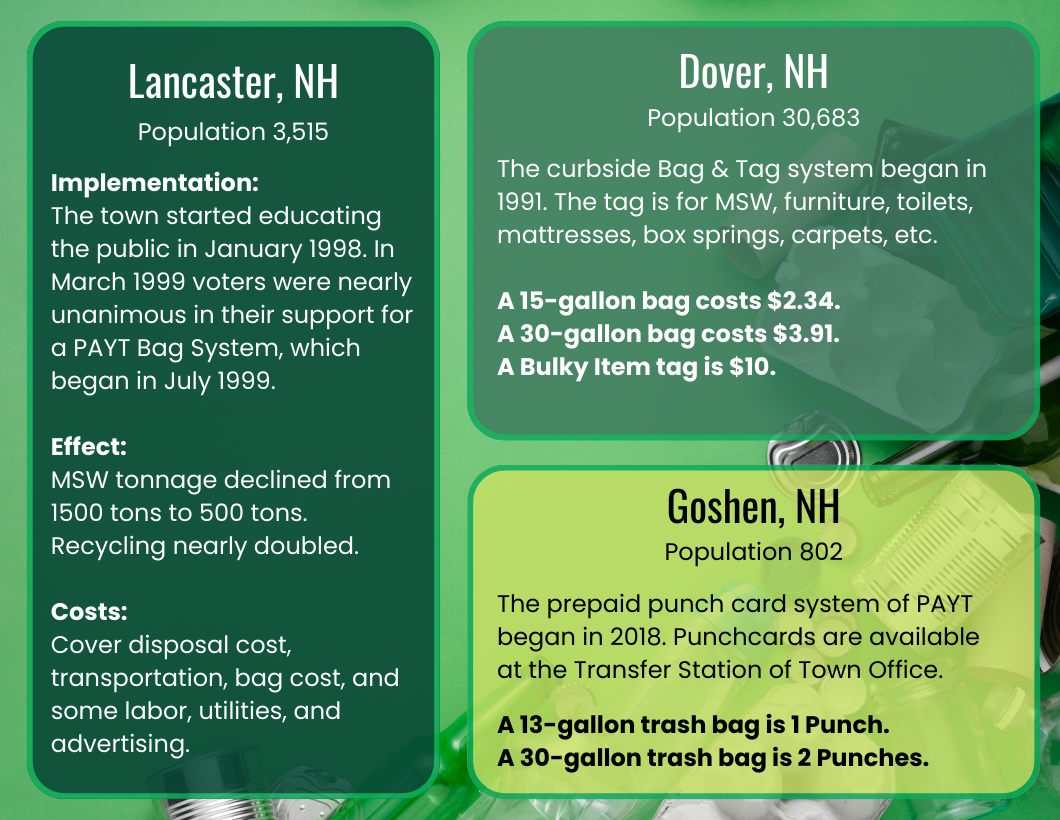 ---
NRRA RESOURCES
The following resources have been created by NRRA in regards to Pay As You Throw. This is a dynamic and up-to-date listing of all PAYT-related resources.