2023 Annual Meeting Recap
NRRA staff, Board of Trustees, and voting municipal members gathered on Wednesday, November 1st at the Puritan Backroom conference center to celebrate this year's NRRA award winners, hear from a fantastic "Voices of Experience" panel, and vote on the new Board of Trustees slate.
NRRA Executive Director, Reagan Bissonnette, opened the meeting reflecting on NRRA's 42-year history of being a member-centered nonprofit operating in what has generally been a for-profit space of the recyclable market. In fact, when NRRA was founded in 1981, we were the sole organization helping New Hampshire municipalities market their recyclables!
Originally founded for cooperative marketing, technical assistance, and education, NRRA is still going strong today, thanks to our continued partnership with members, vendors, and our dedicated Board and staff. For example, through cooperative marketing in 2022, NRRA managed over 81.5 million pounds of recyclables - the equivalent of pulling over 20,000 passenger cars off the road for a full year! NRRA staff provided hands-on technical assistance through 35 Member check-ins - which were mainly site visits - as well as an additional 12 vendor check-ins and site visits. Education remains a year-long endeavor with 7 Member Operations & Marketing meetings, hosting over 300 people for our 2-day Recycling Conference, and a fall bus tour with 45 operators visiting the WM Turnkey Landfill, URT, and the Town of Lee Transfer Station.
Grant Work & Organization Updates

NRRA Board Chair, Joan Cudworth, NRRA Board Treasurer, Mark Richardson, and NRRA Communications Manager, Andrea Folsom, presenting at the 2023 Annual Meeting
NRRA Communications Manager, Andrea Folsom, shared the grant work completed over the past year, with the successful completion of two grant-funded programs. In Coös County, with the support of an EPA Healthy Communities Grant, NRRA held 3 summit roundtables in Lancaster focused on construction and demolition debris (C&D) diversion, as well as a C&D pilot program and audit. It was especially helpful to have Member Services Manager, Brian Patnoe, stationed in the North Country, which makes connecting with these communities more easy and accessible for both NRRA and our Members.
More widely, across New Hampshire NRRA focused on resident recycling education, with support from a USDA Rural Utilities Service Grant, creating an evergreen Recycling 101 Presentation, several waste diversion and reduction toolkits, customizable recycling handouts, and a recycling partnership story map. A busy year, indeed!
Board President, Joan Cudworth, graciously thanked NRRA staff and board members. She illustrated all the ways board members support the NRRA, including:
The Member Benefits & Dues Working Group updated NRRA's dues structure
The Salary & Benefits Working Group approved a paid family leave policy, short term disability policy, and a combined PTO policy
Monthly meetings between the Board Chair and Executive Director to plan for board meetings and discuss NRRA matters
Josh Whipple serves on the NH SWWG representing communities that source separate
Steve Bullek both serves on the NH Waste Management Council as NRRA's appointee and he hosted the NRRA 2023 Fall Bus Tour at the Lee Transfer Station
Ben Gaetjens-Oleson hosted three C&D Summits at the Lancaster Town Hall; Lancaster also participated in the C&D pilot program and audit.
Finally, Board Treasurer, Mark Richardson, gave an update on the 2022-23 financials. Mark stressed the importance of planning ahead with the Capital Improvement Plan committee to budget and save for larger capital investments to keep NRRA running smoothly. One such example was the unanticipated expense of upgrading the HVAC system and conversion from oil fired furnaces to propane gas.
Voices of Experience Panel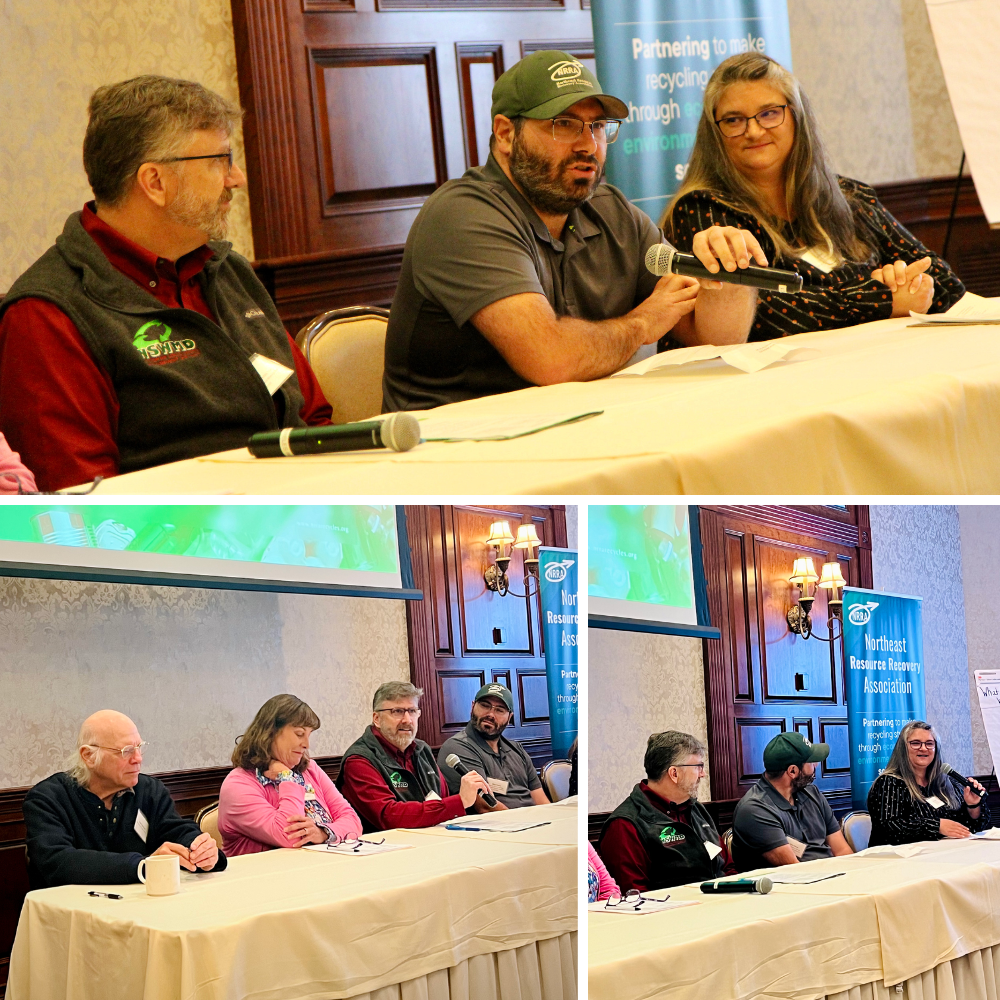 Following the grant and Board updates, Annual Meeting attendees enjoyed listening to the Voices of Experience panel share their stories and insights into recycling then and now. The panel consisted of Mark Richardson, Board Treasurer and retired Transfer Station Coordinator for the Town of Hampton, NH; Joan Cudworth, Board President and Director of Public Works for Hollis, NH; John Fay, Board Member and Programs Manager for the Windham Solid Waste Management District in VT; Brian Patnoe, NRRA Member Services Manager; and Tara Albert, SWOT Training and Certification Coordinator for NHDES.
The panel reflected on several questions, including their advice to new operators and community decisionmakers, the best way to educate residents, the strangest things they found at the transfer station and how things have changed over the years. (The answers were so wonderful we couldn't keep them to ourselves! Read the full Voices of Experience article for more.)
Awards and Networking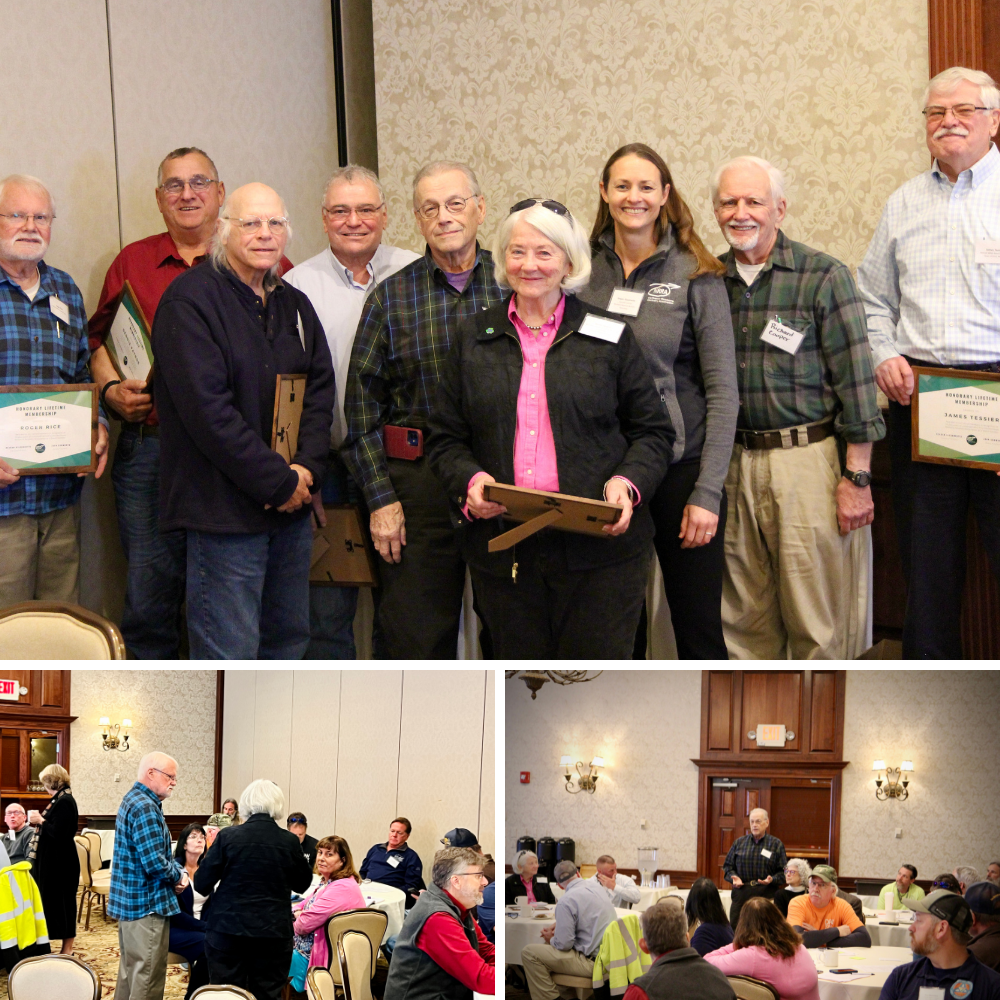 Following the panel discussion, attendees celebrated this year's Recycling Awards winners, including: Bonnie Bethune, Sami Izzo Recycler of the Year; Frank Baker, Rookie of the Year; APC Paper, Vendor of the Year; Bob Fanny, Continuing Education Award; Stacey Morrison, NRRA Hall of Fame; and fifteen Honorary Lifetime Membership recipients. (Read more about this year's awardees.)
Of particular interest and in appreciation for NRRA's 42-year history – a testament to the dedication of long-serving volunteers and staff – a new Honorary Lifetime Membership category was created and eight of the fifteen recipients joined us at the Annual Meeting. It was a wonderful opportunity for current and retired operators and NRRA supporters to connect. Charlie Kelley, one of the Honorary Lifetime Membership recipients, stood up to offer some lovely words about what NRRA has meant to him over the years and his deep appreciation for the organization and members.
Connection & Values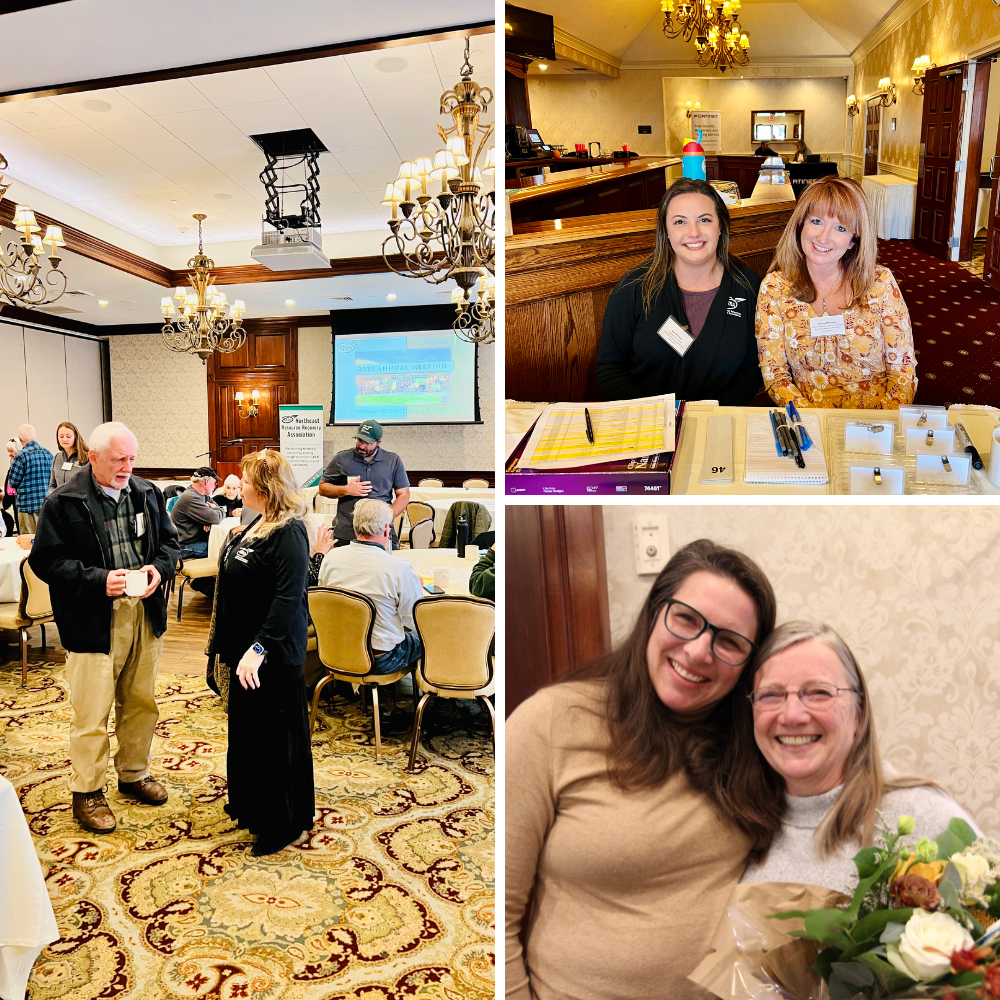 The Annual Meeting ended as it began, with time for operators, staff, Board members, and supporters to network and connect around our shared favorite topic: NRRA and recycling! Attendees shared their thoughts on how NRRA positively impacts them - and ways we can continue to improve - before enjoying an unstructured lunch before heading out. As always, the event was full of fun, interesting conversations, and optimism looking ahead to NRRA's next year.
Thanks to all who were able to make it this year, and thank you again to all of our members - we couldn't do it without you!