NRRA Announces 2023 Recycling Award Winners at Annual Meeting
EPSOM, NH: The Northeast Resource Recovery Association (NRRA), is pleased to announce the 2023 Recycling Award winners: Bonnie Bethune, Sami Izzo Recycler of the Year; Frank Baker, Rookie of the Year; APC Paper, Vendor of the Year; Bob Fanny, Continuing Education Award; Stacey Morrison, NRRA Hall of Fame; and fifteen Honorary Lifetime Membership recipients. Awardees were celebrated at the November 1st Annual Meeting.
NRRA Senior Member Services Representative, Bonnie Bethune, received the highest award, named in remembrance of Sami Izzo, a high energy, multi-talented individual known for her contributions in the world of waste reduction and recycling.
This lifetime achievement honors those who best combine the qualities of commitment, leadership, and enthusiasm in developing and sustaining an environmentally and financially sound solid waste management program. In her award remarks, NRRA Executive Director, Reagan Bissonnette, shared staff reflections of the award winner:
"Bonnie's whole face lights up when she is talking about recycling. It's clearly a subject she's excited by and passionate about. This job is personal to her, she cares about the [NRRA] members and vendors. We are lucky to have her, and the environment is lucky to have someone who cares so much."
Frank Baker, Senior Transfer Station Attendant for the Town of Weare, NH received the NRRA Rookie of the Year award, which is given to an innovative solid waste operator who is new to their position.
Since his start in January 2023, Frank's positive, enthusiastic attitude with residents has created a welcoming environment, while his organizational work is allowing for smoother transfer station operations.
"Frank is a very genuine person committed to making the Weare Transfer Station a better place for its residents and the town. His enthusiasm and willingness to learn all things recycling really stands out."
APC Paper stands out for its demonstrated high excellence in service to NRRA's municipal members, earning them the Vendor of the Year award.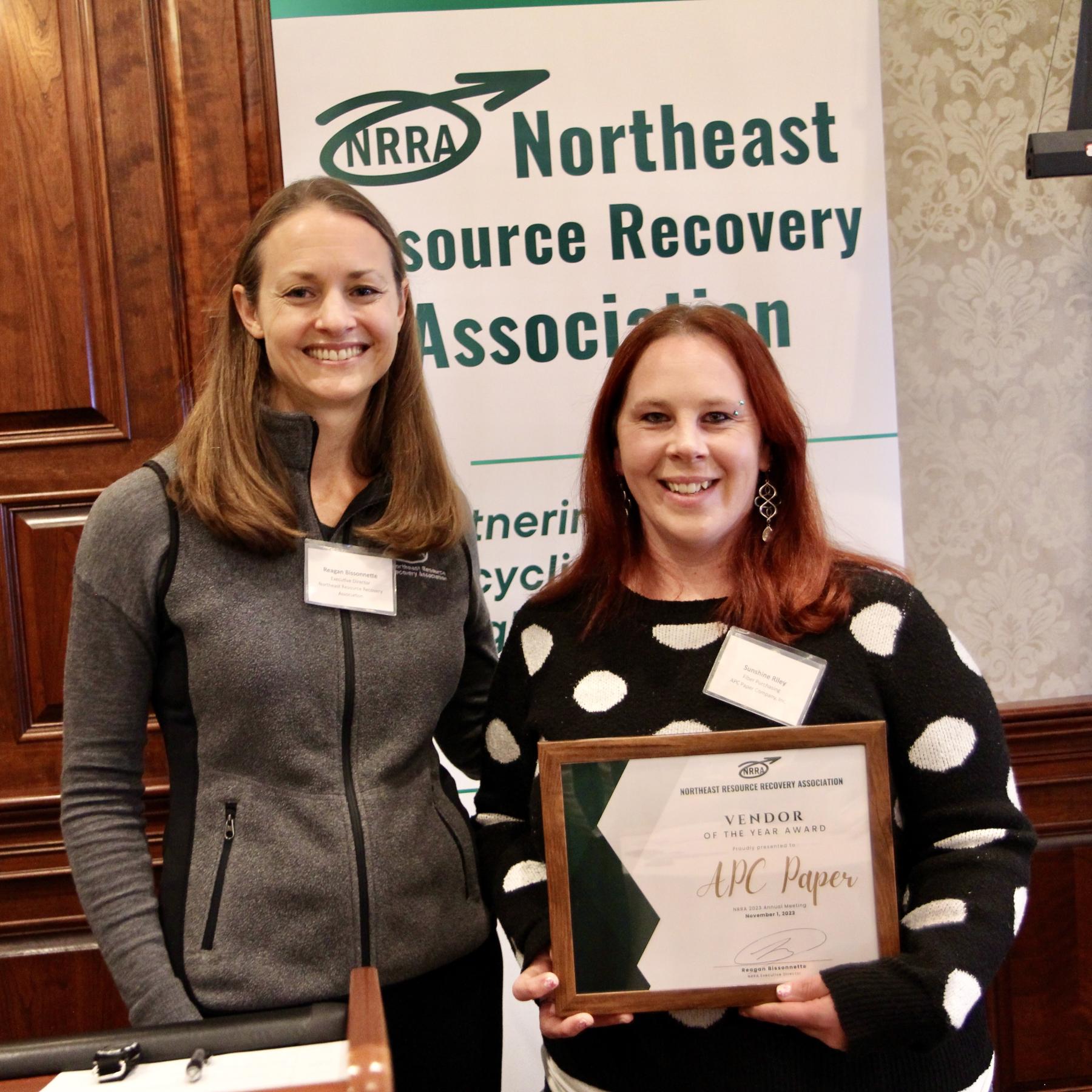 The New Hampshire based fiber recycling facility began in 1990 with the purchase of a shuttered Claremont paper mill. In 2022, APC Paper recycled nearly 4,000 tons of NRRA member cardboard into paper bags, lawn bags, and packing material.
Bob Fanny, Solid Waste Foreman for the town of Pembroke, NH received the inaugural NRRA Continuing Education Award after attending all NRRA events for the past year and earning 23.5 hours of credit.
NRRA appreciates Bob's commitment to continuing education to better serve his community!
NRRA Administrative & Logistics Manager, Stacey Morrison, was inducted into the NRRA Hall of Fame for 10-plus years of continuous, dedicated service.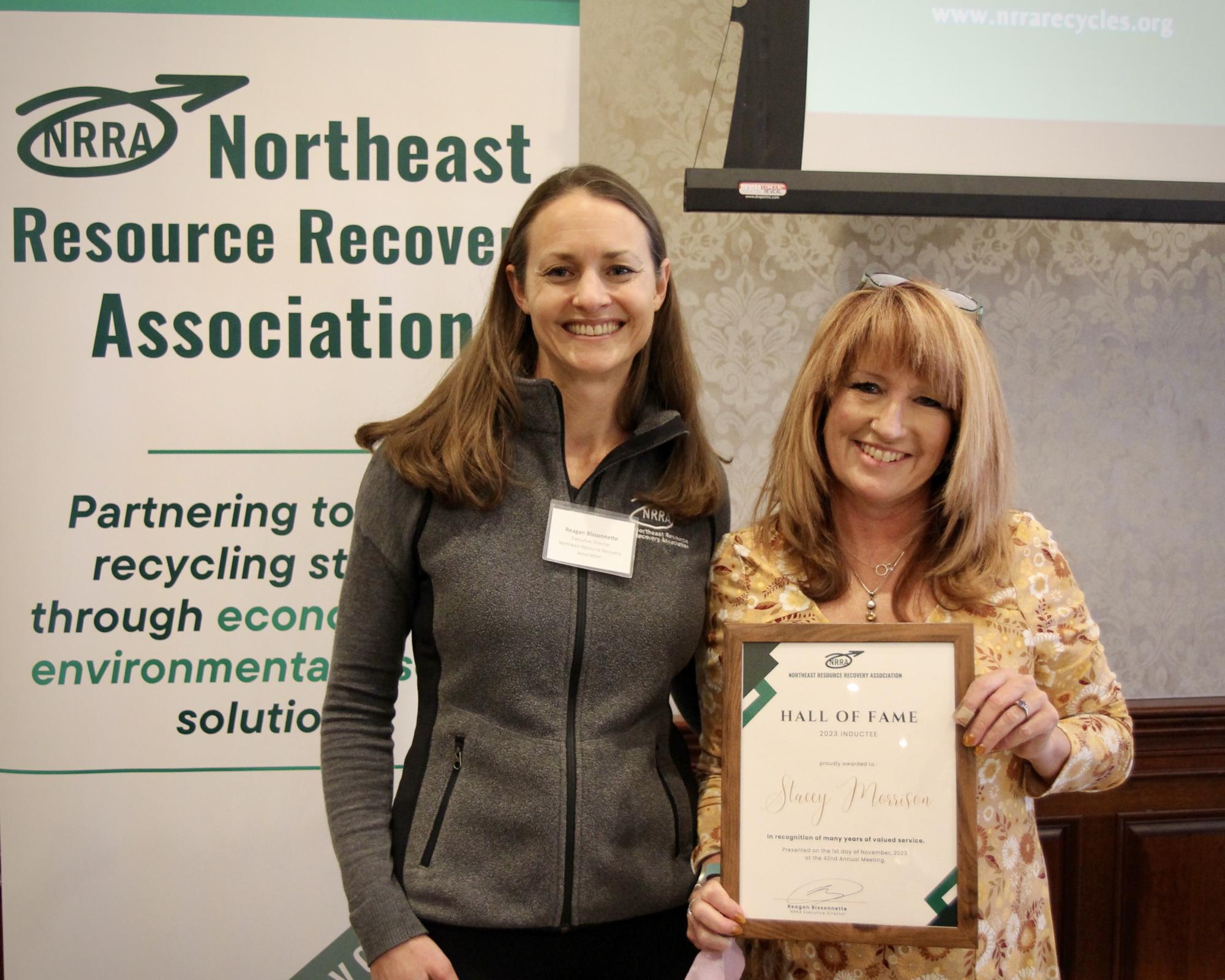 Over the years, Stacey developed her skills in recycling marketing, and now oversees the NRRA Logistics department, which moves recyclables from member facilities to marketplace. In her award remarks, NRRA Executive Director, Reagan Bissonnette, shared:
"Stacey is a lynchpin of the organization, connecting finance, logistics, and communications – no one juggles better than she does! Stacey is grace under fire. She makes everything look so easy and is a wonderful go-to for resources."
Finally, fifteen now-retired NRRA Hall of Fame recipients were distinguished with Honorary Lifetime Memberships.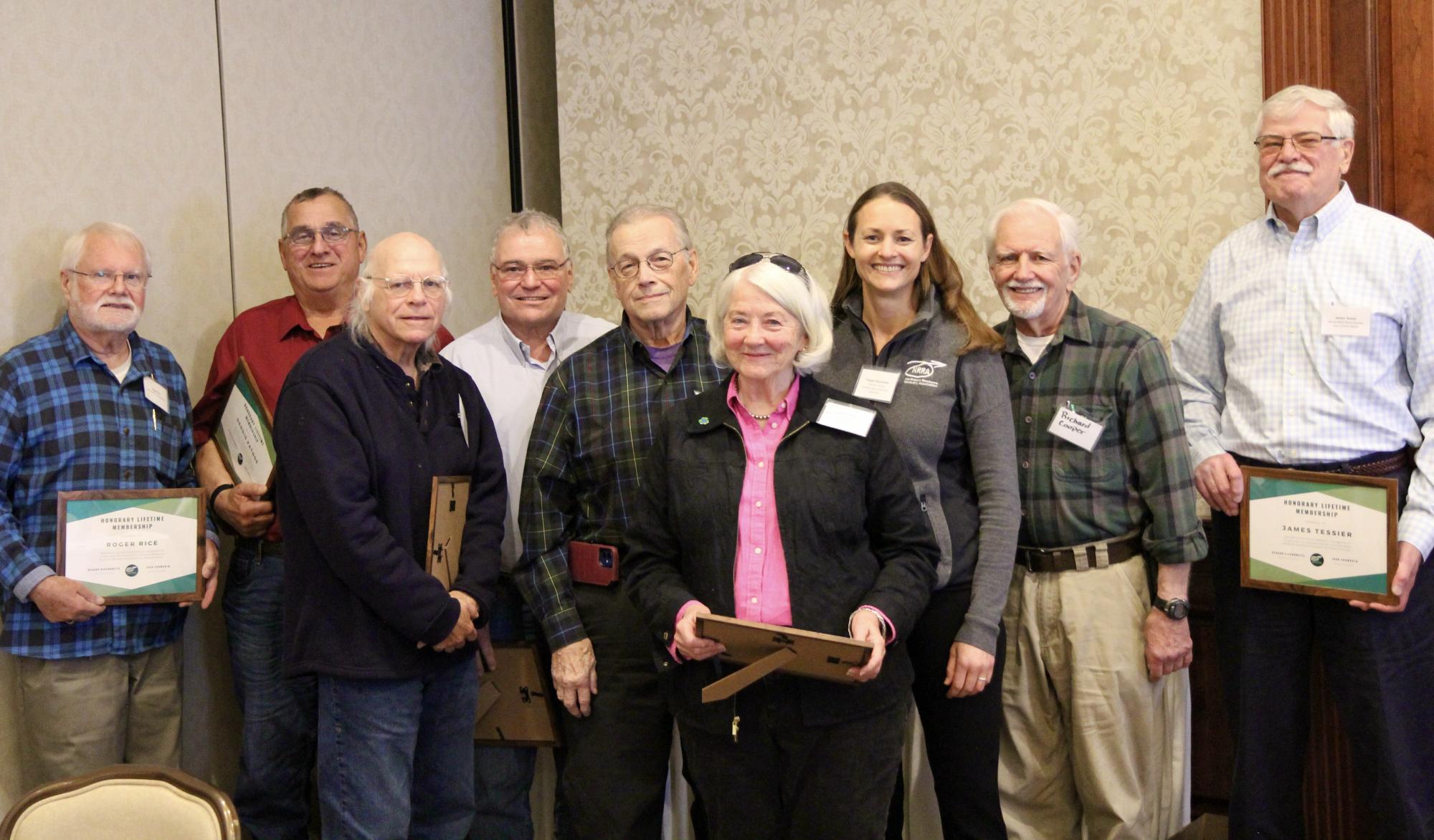 In appreciation for NRRA's 42-year history – a testament to the dedication of long-serving volunteers and staff – the new celebratory membership category was created. NRRA was delighted to welcome eight of the fifteen recipients to the 2023 Annual Meeting. Honorary Lifetime Memberships were given to Rick Cooper, Sally Hyland, Charlie Kelley, Gordon Martin, Dennis Patnoe, Roger Rice, Mark Richardson, Jim Tessier, Bev Pfeifer, Dave Hartman, Dave Krisch, Jan Carter, Mary Jane Poch, Mike Durfor, and Bill Hochstin.
NRRA deeply appreciates each awardee's willingness to share their time and expertise with the organization and fellow NRRA Member communities, which constitute 90% of towns in New Hampshire and Vermont.
# # # # #
About the Northeast Resource Recovery Association (NRRA)
The Northeast Resource Recovery Association (NRRA) is the oldest and largest cooperative-model recycling nonprofit in the United States. NRRA partners with over 450 municipalities, businesses, and individuals throughout New England to make recycling strong through economic and environmentally sound solutions. NRRA supports many small, rural communities in New Hampshire, Vermont, and Massachusetts. It is one of only a handful of nonprofits in the country that enables communities to manage their own recycling programs by connecting them with end markets for recyclables. Founded in 1981, NRRA has a deep expertise in the recycling markets, and in partnership with its members, NRRA shares that information through education, technical assistance, and cooperative marketing. To learn more, visit www.nrrarecycles.org.