Conference Update: Over 300 Attendees Talked "Recycling Tools of the Trade"
Over 300 attendees from New England and beyond attended the recycling nonprofit Northeast Resource Recovery Association's (NRRA) Annual Recycling Conference & Expo on May 22 and 23 to talk Recycling Tools of the Trade.
Recycling and waste management industry attendees gathered at the conference's new location, the Grappone Conference Center in Concord, NH. The new location was chosen in part for the Center's focus on reducing their environmental impact through innovative solutions, including integrated recycling programs, energy-efficient lighting and HVAC systems, food waste composting, and local food sourcing. The new space buzzed with connections as attendees, speakers, and exhibitors networked between the 22 workshops and two keynote presentations over two days.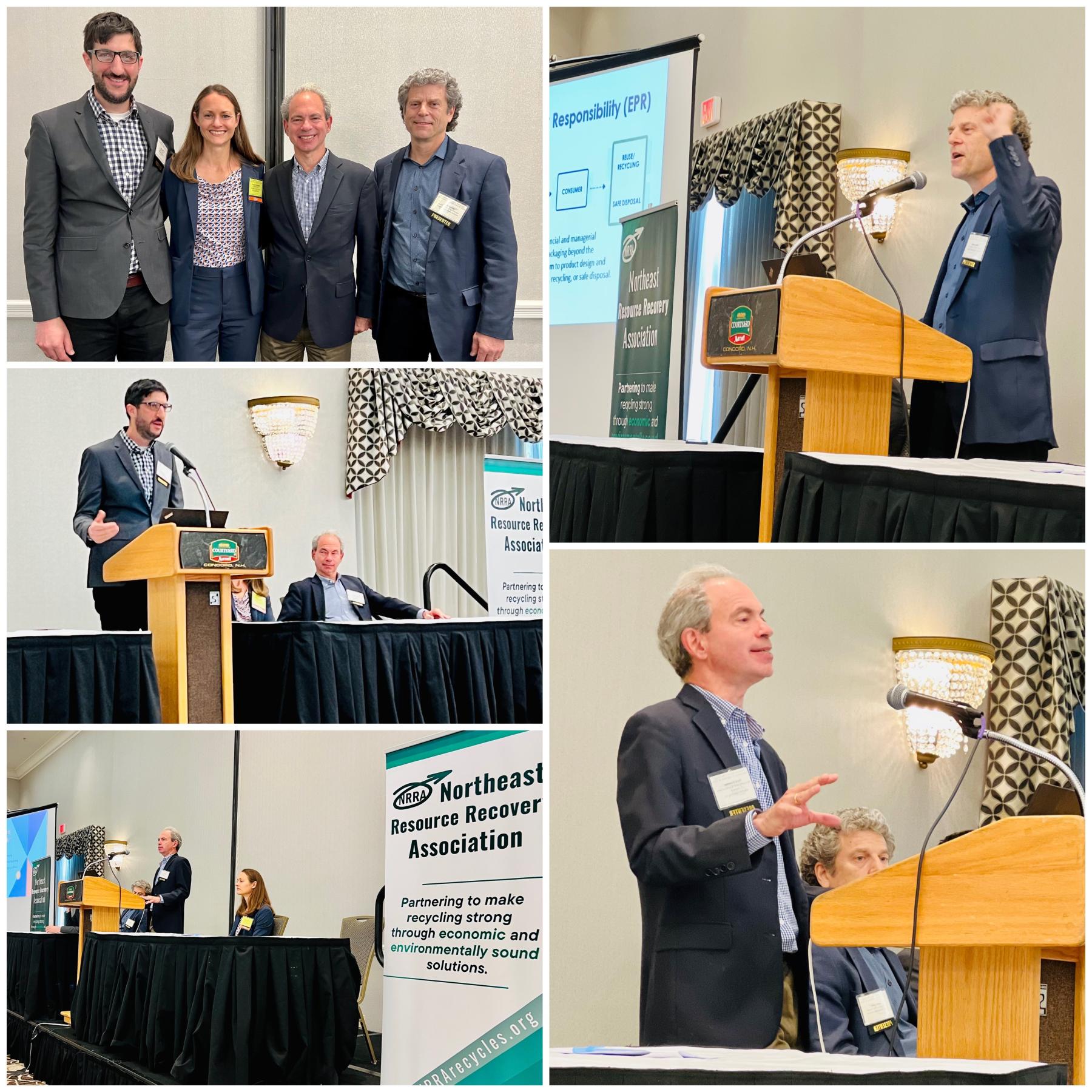 For over forty years, NRRA's annual Recycling Conference & Expo has been a premier conference focused exclusively on municipal recycling and waste reduction in the Northeast, pulling in some of the biggest names in recycling and solid waste diversion. The National Keynote panel on Monday featured Dan Leif, Editorial Director for Resource Recycling, Inc; David Biderman, President of Biderman Consulting, LLC and former Executive Director and CEO of SWANA; and Scott Cassel, Chief Executive Officer and Founder of the Product Stewardship Institute. Leif and Biderman discussed recycling markets and how rapidly the recycling sector is changing, as well as the economic vitality of recycling and the ongoing need for clear information about what is happening with the price of recyclable materials. To the delight of attendees, Cassel opened with a harmonica riff before expanding on regulatory changes to reduce waste and improve recycling, with a focus on Extended Producer Responsibility (EPR) policies. While transfer station operators and town administrators have their hand on the pulse of local recycling realities, being able to hear the big picture perspective from national leaders is a unique benefit of the annual conference.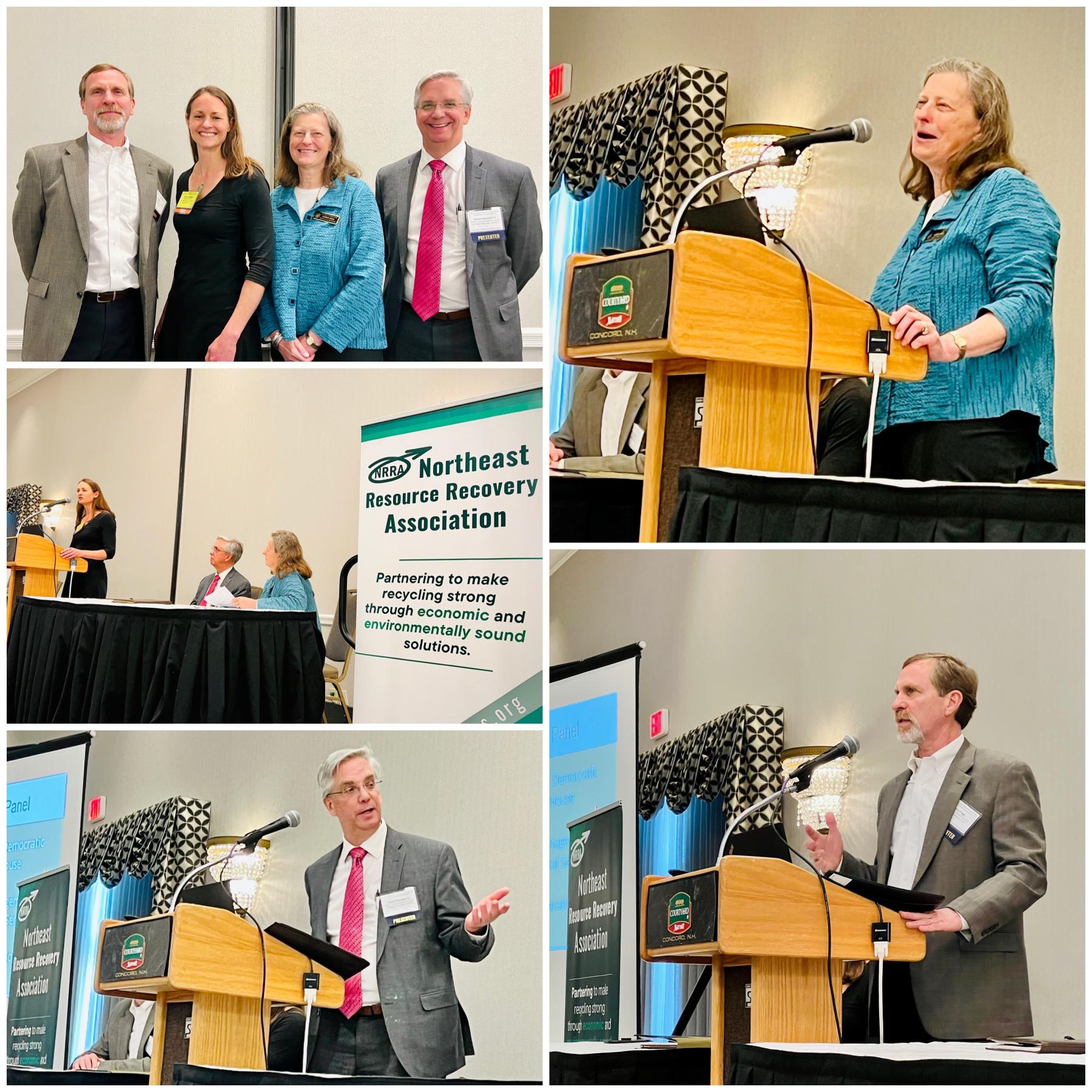 Tuesday's Keynote Panel had a local focus on New Hampshire, featuring State Representative Karen Ebel, Democratic Leader Pro Tempore of the NH House and Chair of the NH Solid Waste Working Group (SWWG); Steve Poggi, Director of Operations for Waste Management's New England and Upper New York Market Area; and Mike Wimsatt, Director of the Waste Management Division for the NH Department of Environmental Services. "Unless you've been living under a trash can," Representative Ebel said, "you know that solid waste has really become front and center in the state." She went on to share an update on the SWWG's activities over the past year, including the group's recently released initial report. Wimsatt and Poggi then discussed the current landscape for managing waste in NH, including the new NHDES solid waste management plan, infrastructure limitations in NH, and what drives industry to invest in increasing diversion in NH.
In addition to the keynotes and exhibitor booths, attendees had their pick of workshops, including Don't Trash your Cash, Plastic Film Recycling, TVs and How They Are Processed, Recycling 101 for Residents, Municipal Composting, Landfill 201: Design and the Environment, several workshops on state and federal grant opportunities, and much more. Dozens of operators joined daily Operator Roundtables to discuss problems and crowdsource solutions for issues that many transfer stations face.
And while he wasn't able to join us in person, US Representative Chris Pappas sent along a special message for our attendees and members, with a particular thank you to the hardworking solid waste operators across New Hampshire.
Attendees expressed appreciation for the opportunity to network with conference speakers, attendees, and organizations participating in the exhibit hall. Said one transfer station manager and attendee, "the speakers were very knowledgeable, the content was current, and I enjoyed both the big picture information as well as things I can apply today."
Another noted, "Whether it was a roundtable or lecture portion, I felt that everyone was engaged!"
NRRA is already looking forward to next year's Annual Recycling Conference and Expo to be held again at the Grappone Center in Concord, NH on June 3rd and 4th, 2024.
Join us again - June 3rd and 4th, 2024 - we hope to see you there!
Don't miss a moment - sign up to receive 2024 Annual Conference updates, including early-bird pricing!