Boat Wrap Recycling
NRRA managed a boat wrap recycling program from 2006 to 2018. In that time, wrap from over 25,000 boats was shipped to sites in NH or MA for processing and exported for recycling. Due to the high costs of transportation and declining overseas market, this program was no longer viable.
In the Spring and Fall of each year, NRRA gets many inquiries from residents as to what to do with their boat wrap.
Currently, NRRA does not have recycling solutions to offer other than encouraging boat owners to:
Save the wrap to reuse next season
Offer to another boat owner for reuse
Cut up to reuse as a tarp or cover
Reach out the NH Marine Trades Association in Laconia, NH at 603-524-3755, to let them know that keeping this material out of the waste stream is important to you.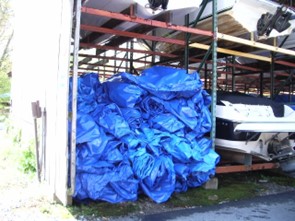 Updated May 2022