Case Study: Lancaster C&D Reuse Pilot Program
Case Study: Lancaster Transfer Station Construction & Demolition Reuse Pilot Program and Audit
BY THE NUMBERS:
- Total days of pilot: 53
- Days open to public: 22
- Pounds diverted: 3,078
- Tipping fees saved: $118.50
- Hauling costs saved: $44.48
- Total costs saved: $162.98
- Container space saved: 15.4%
- GHG emissions avoided: 57.85 pounds
Lancaster, NH conducted a pilot program to increase diversion of construction and demolition debris (C&D) from being landfilled through residential reuse of wood, doors, windows, and other reusable building items. The pilot program also allowed furniture and other bulky items to be diverted into the reuse pile, since Lancaster mixes these items with their C&D. The pilot program was conducted from May 30 to July 22, 2023, with technical assistance from the Northeast Resource Recovery Association.
The pilot program was set up with a specific area for the reuse pile at the Lancaster Transfer Station. NRRA created two signs that were displayed in a-frames directing residents to contact the Transfer Station staff prior to leaving or taking any material, to ensure only reusable materials were retained and to weigh any material being taken for recording purposes. During the pilot program, Lancaster Transfer Station staff selected clean wood and other potentially reusable materials out of the C&D brought to the transfer station. These materials were available for residents to take at no cost for reuse.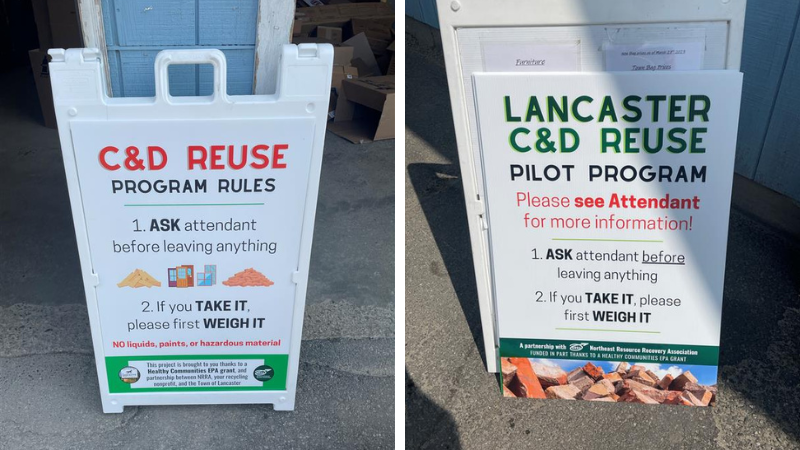 ITEMS REUSED: A total of 3,078 pounds of material was diverted for reuse; this included wood, furniture, doors, sinks, countertops, and various other small items. The biggest weight contributor, even though it is not C&D, was furniture at 1,370 pounds.
GREENHOUSE GAS EMISSIONS: NRRA calculated that 57.85 pounds of carbon dioxide emissions (CO2) were avoided over the course of this pilot program. This calculation is based on the fuel savings by not hauling the weight of the diverted material but does not include the greenhouse gas emissions avoided due to reuse versus using new materials, or landfill gas emissions if the material had been landfilled.
DISPOSAL FEES AVOIDED: The facility saw a combined tipping and transportation fee savings of $162.98 over the course of the 2-month pilot program. This is based on the facility using their pre-crusher and getting an average container weight of 10-tons. This is equivalent to saving around 15.4% of space in a container. That equates to a savings of 8 containers per year, since Lancaster sends approximately one container per week.
LOOKING AHEAD: Based on the success of the pilot program, the Town of Lancaster plans to continue this C&D diversion and reuse program for residents. Assuming the same results for this pilot program period were extended through an entire year, Lancaster could expect to divert 21,194 pounds of C&D, save $1,112 in avoided transportation and tipping fees, and avoid 398 pounds of greenhouse gas emissions (based on decreased hauling weight alone).
Case Study Follow-up: C&D Audit of the Lancaster, NH C&D Diversion & Reuse Program
BY THE NUMBERS:
Pounds audited: 3,435

Disposal costs avoided: $180.41

Single Load Audits: 2

Pounds diverted: 711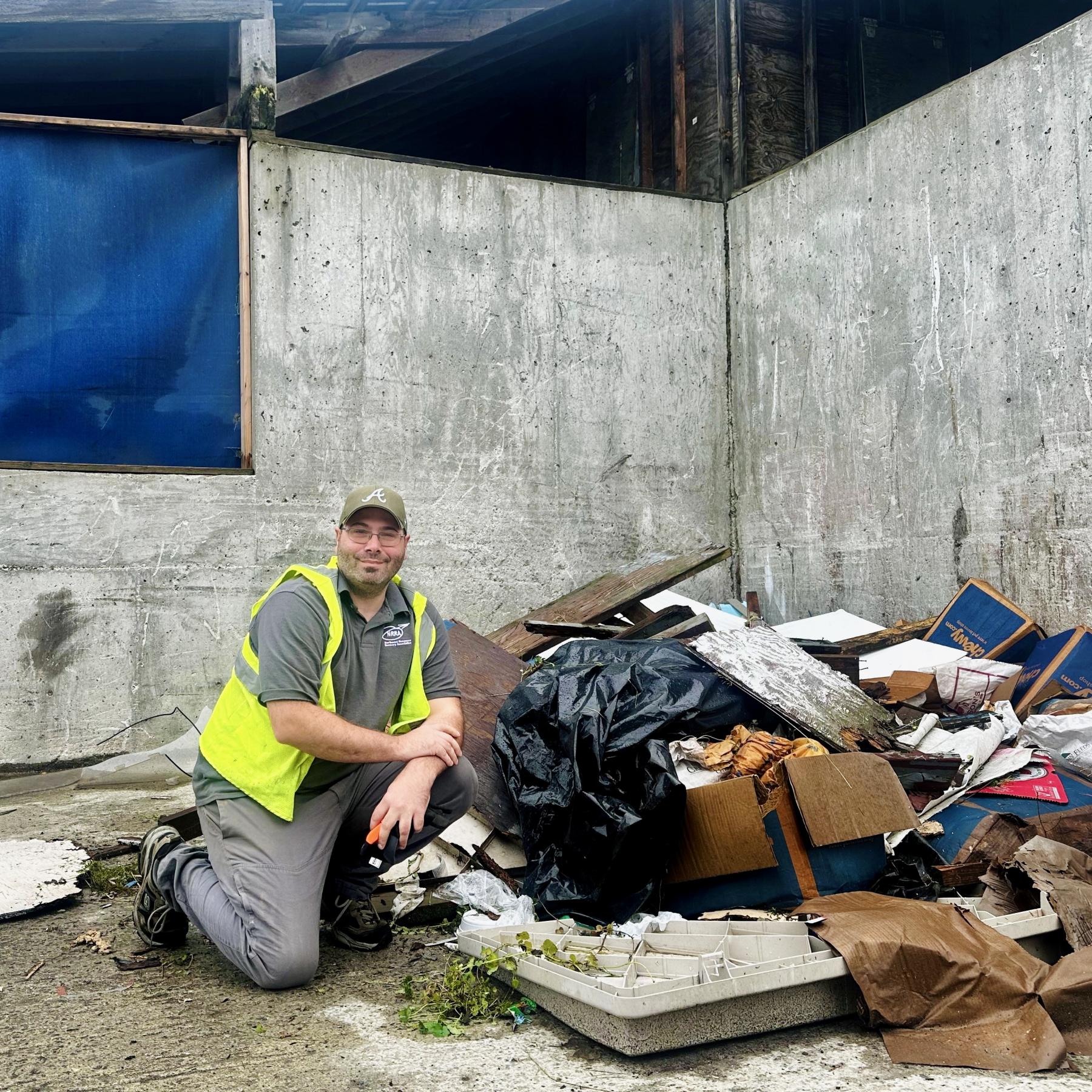 Following a successful construction and demolition debris (C&D) diversion and reuse pilot program completed in late July 2023, the Lancaster, NH Transfer Station continued to divert reusable C&D and bulky items such as furniture. In August 2023, NRRA's Member Service Manager visited the Lancaster Transfer Station to complete a two-day C&D audit on materials that had not-yet been diverted. The audited C&D was sourced mainly from residents, with some coming from a couple of local contractors. The total weight audited was 3,435 pounds, which represents approximately one-sixth of a load of a full, pre-crushed container from Lancaster's facility.
While performing the audit, NRRA calculated the amount of C&D material that could be diverted from the landfill through recycling or reuse.
WEIGHT BREAKDOWN: Of the 3,435 pounds audited, about 42% consisted of wood. 711 pounds (20.7%) of the total pounds audited was diverted, the majority of that being metal from a disposed camper.
SINGLE LOAD BREAKDOWNS: During the audit there were two large loads of delivered C&D that were audited by themselves. One load consisted of 690 pounds, the majority (87%) of which consisted of wood. 24% of the load was diverted away from the landfill via recycling or reuse. The second load weighed 1,350 pounds and was a camper that a contractor was disposing of. 38.5% of the load was metal and 41% was dirt and sod. 532 pounds were diverted by separating and recycling the metal.
DISPOSAL COSTS: The total audited amount would cost the facility $180.41 to send to the landfill. By diverting some of the material, the town saved $37.34 in disposal fees. In addition, by recycling the metal, the town made $10.80 in revenue. This equated to 26.7% savings.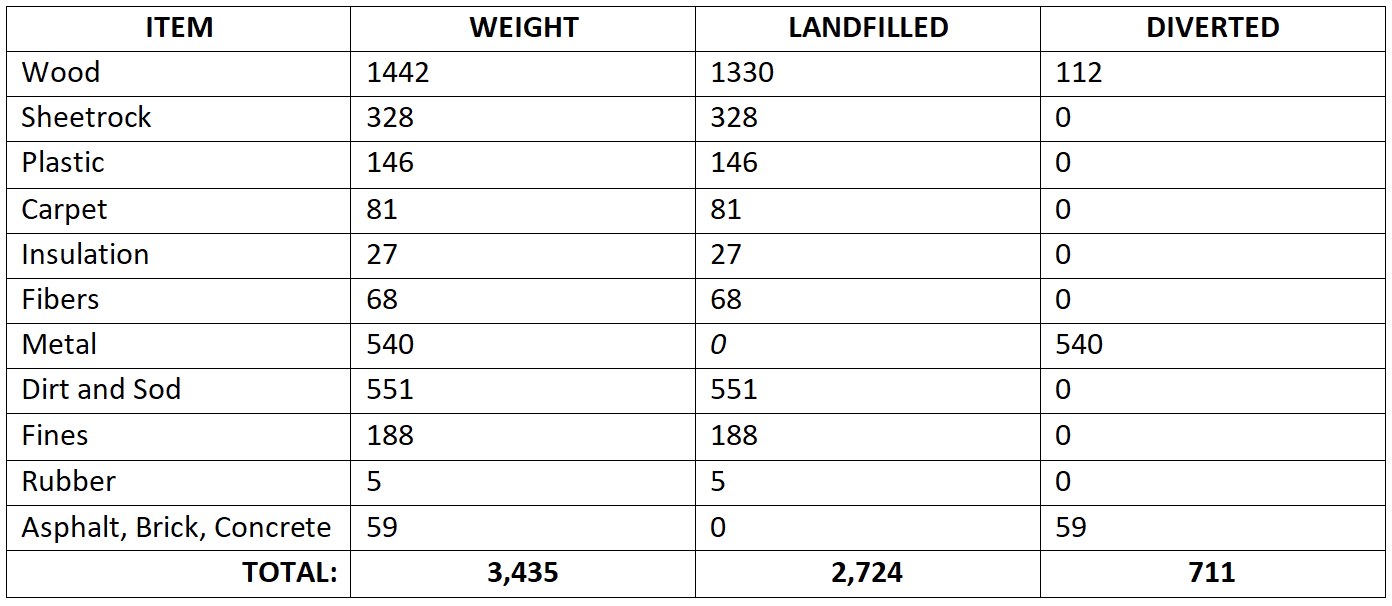 If you have questions about this case study, please reach out to the NRRA Member Services team at info@nrrarecycles.org or 603-736-4401.
---
This project has been funded wholly or in part by the United States Environmental Protection Agency under assistance agreement 00A01024 to Northeast Resource Recovery Association. The contents of this document do not necessarily reflect the views and policies of the EPA.