Town of Tilton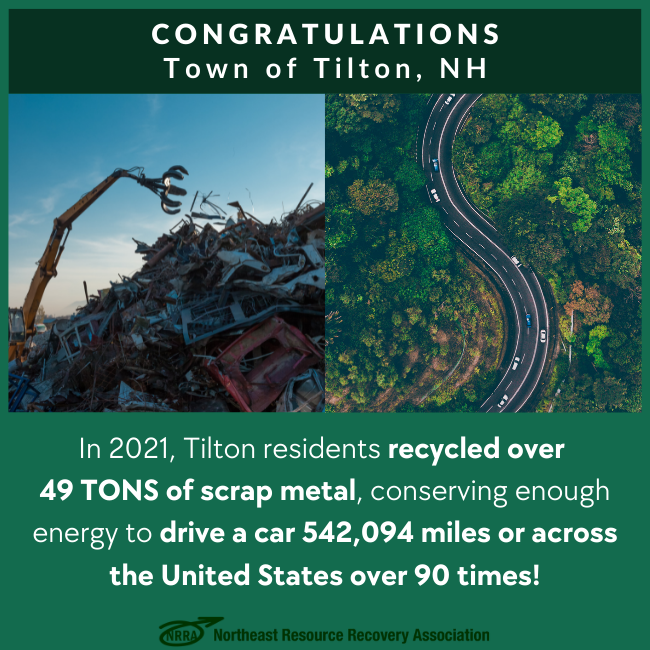 Download Image
♻️ TILTON, NH KNOWS THE ECONOMIC AND ENVIRONMENTAL VALUE OF RECYCLING SCRAP METAL! ♻️

Residents of the Town of Tilton, New Hampshire should be proud! Together, they recycled OVER 49 TONS (that's over 98,000 pounds!) of scrap metal in 2021! By recycling instead of trashing, they helped conserve enough energy to drive a car over 542,000 miles. That's like driving across the United States more than 90 times! WOW!!

FUN FACTS:
- All metals can be recycled an INFINITE amount of times! Their properties hold steady no matter how many times they are melted down.
- Copper recycling has been common since it began in ancient times! (Some may even still be in use today!!)
- Recycled aluminum cans can transform into new cans in as little as 60 days. (Say this sentence 5 times fast!)
- Modern electric arc furnaces, used in metal recycling, can melt steel scrap into new steel in less than an hour!

KEEP IT UP, TILTON!!
This material is based upon work supported under a grant by the Rural Utilities Service, United States Department of Agriculture. Any opinions, findings, and conclusions or recommendations expressed in this material are solely the responsibility of the authors and do not necessarily represent the official views of the Rural Utilities Service. Rural Community Assistance Partnership, Inc., is an equal opportunity provider and employer.