Maximizing Your NRRA Benefits: Part 2 (Technical Assistance & Education)
Welcome to part 2 of our Maximizing Your NRRA Benefits series.
In this section, we will cover education and technical assistance benefits. In case you missed it, part 1 covers the benefits of logistics and finance. (This was originally presented at the 2023 Annual Recycling Conference .)
In this section we will be covering education - both for operators and residents - and technical assistance for all Municipal Members.
EDUCATION
If you are a principal operator in New Hampshire, per NHDES you must earn a minimum of 2.5 continuing education credits each year. NRRA hosts a variety of video presentations and in-person events that count towards this continuing education requirement. We keep track of which of our workshops, meetings, or other NHDES certified events you attend, so that we can be sure to provide you with a certificate of attendance when you need it.
NRRA designed a full Recycle Right Toolkit - a valuable and free educational tool especially designed for small source-separated towns (but applicable to single and dual stream communities as well). It includes educational posts, videos, and suggested social media campaigns.
Recycle Right has been created and designed to be shared - in emails, on websites, and across social media.
Because the images and text are designed to be SHARED you are welcome to download and share however you please. You can share them directly on social media, or download the images and text to use in your own Recycle Right Campaign, email, or website. You can even print the images for signage!
Our News & Events page is where you'll find all of the latest happenings with NRRA, including:
Our Communications department works hard at connecting with members and residents across the Northeast. If you have a question or need help with any social media, flyers, or resident education, we can help, just reach out!
Stay up to date on what's happing in the New Hampshire legislature with our Policy & Legislation section, where we track bills related to solid waste management in NH. You will find article updates on the NH Solid Waste Working Group's progress as well.

NRRA has compiled a list of grant opportunities for municipalities, transfer stations, and other recycling groups. Grant opportunities are divided between National grants and State-specific grants. So far, we've covered New Hampshire and Vermont, but will be expanding to other Northeast states, so be sure to check back!
TECHNICAL ASSISTANCE
Municipal officials and solid waste operators often have questions regarding recycling trends, proper processing techniques or market specifications, but are unsure where to call to get the correct answer.
NRRA assists its membership by acting as a one-stop clearinghouse of information. NRRA's Member Services Team can assist members with questions or call on its vast network of municipal and state recycling coordinators to find the correct answer. Here are some examples of assistance our team can provide to members.

From start to finish, we are here for you.
Whether you need help figuring out storage, the right baler, what can be recycled, or who takes it, we are here for you.
For example, recently we worked with Hancock, NH to run the numbers on their plastics program, helped them move from baling #1 PET and #2 HDPE to instead baling #1-#7 plastics. While this meant less revenue, there was significant savings on labor costs, an increase in valuable storage space, and residents were able to easily recycle more types of plastic.
After another site visit, we received this feedback:
"Jon and I want to thank both you and Brian coming to check out our transfer station! It was so nice to have some professional eyes on our spot to help us problem solve with what we're working with! Can't wait to see what we can do together in the future!" – Judy Purington, New Durham Administrative Assistant
Cooperative Purchasing is a great Member benefit! By buying in bulk, we're able to pass the cost-savings on to you.
Cooperative purchasing programs include:
Transfer Station Items: Baling wire, Gripples, Strapping, and Clips



Transfer Station Storage: Used 10', 20', 40', or 45' overseas shipping containers and non-road-worthy trailers (with or without wheels & Landing Gear)- Can have overseas containers painted for additional fee.



Gaylords: Every few years, NRRA members work collaboratively to order 40 - 50 custom, NH-made plastic gaylords for storage of recyclables prior to baling. These lightweight but durable gaylords are best suited for collection of aluminum cans and plastics and, if treated well, will last for years.
We host an annual Compost Bin and Rain Barrel Sale, which allows our members to purchase Compost Bins, Rain Barrels, Kitchen Pails and Compost Turners by the pallet at a discounted price. They can then sell them to their residents at cost or as a fundraiser at a slightly increased price. NRRA arranges the order, transportation and delivery (to your municipality) for this event.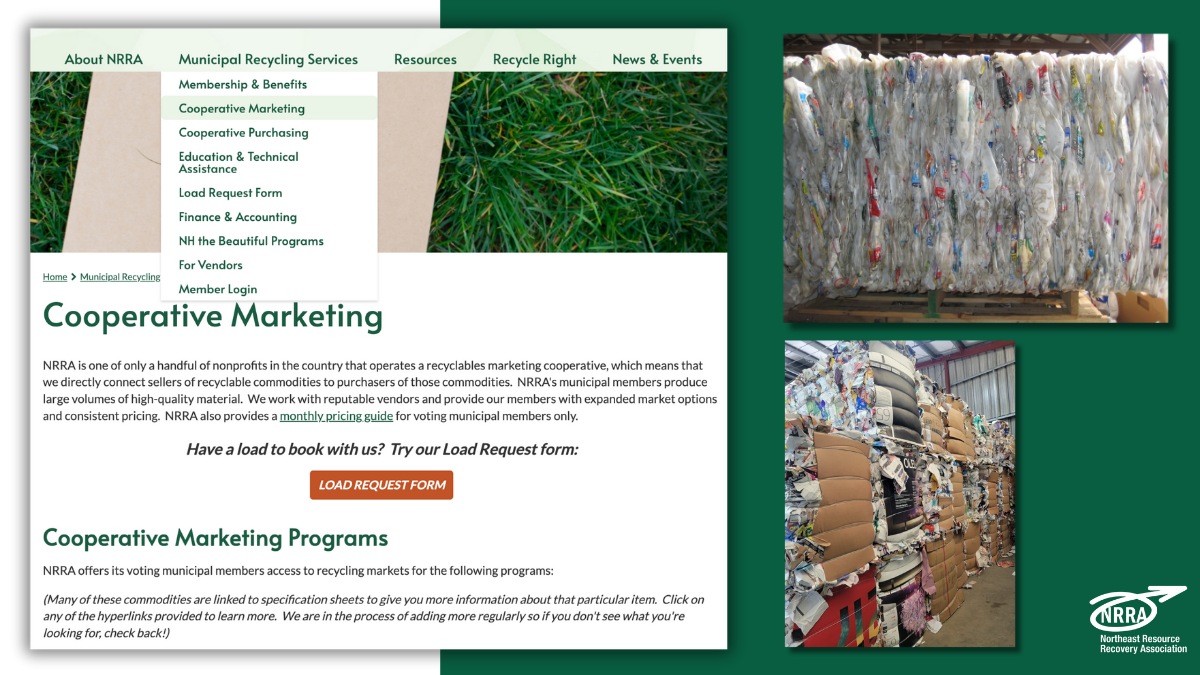 We work with many vetted companies to help you not only recycle or dispose of your material, but do it properly.
FIBERS
Baled or Loose Cardboard
Baled or loose mixed paper
Baled or loose Newspaper
Baled or loose Office paper
Loose Magazines
Loose Books
PLASTICS
#1 PET
#2 Natural
#2 HDPE Mixed Color
#2 HDPE "Z"
#5 PP
#1-#7
#3-#7
Rigid
Mixed with Commingled or Single Stream
We can also help you manage other types of recyclables and waste, such as:
METALS
Scrap Metal
Non-Ferrous (Copper, wire, brass, Aluminum, lead, Christmas Lights)
Aluminum Cans – Baled or Loose
Steel Cans – Baled or Loose
Drained Air Conditioners
PROPANE
REFRIGERANTS
ELECTRONICS
BATTERIES
Alkaline
Rechargeable
Lead Acid
Button
Lithium
BULBS
Fluorescent (straight, CFL, Round, U-shape)
LED
Incandescent
Other types like sodium & Metal Halide
COMMINGLED or SINGLE STREAM
Commingled includes plastics, steel cans, aluminum cans, and with or without glass
Single Stream
OTHER
Household Hazardous Waste (HHW)
Municipal Solid Waste (MSW)
Construction & Demolition Debris (C&D)
Every month, our Member Services team compiles market data to provide an exclusive Market Update report

just

for our Members!
The report includes an overview on the fibers, plastics, metals, glass, and commingled/single stream markets and price averages, so you'll never be surprised.
Information Sheets are a collection of valuable company suggestions for transfer station equipment, products and services, as well as instructions in response to commonly asked questions related to recycling - all sorted by topic.
We can help with contracts for hauling, disposal, container rentals, and for recycling.
We also have a dedicated NRRA listserv, which is a great way for members to reach all of the NRRA Members in the listserv group simply by emailing the single listserv address. All voting municipal members of NRRA are invited to join!
NRRA holds regular Member Operations & Marketing (MOM) Meetings, which enable operators to gather and discuss the concerns of specific towns, learn about current market conditions and specifications for acceptable clean material, and to problem solve on a variety of topics, such as signage, traffic flow, equipment, and time management.
New Hampshire solid waste operators can receive continuing education credits toward their license by attending.
Some MOM meetings are held "on the road" at a member's facility, where meetings will be followed by a tour of the member's facility. MOM meetings held at the NRRA office are hybrid, meaning you can join in person or online!
NRRA Membership brings loads of benefits - from cooperative purchasing and marketing, to technical assistance and education - when you partner with NRRA, you're never on your own!