Recycle Right Campaign: Week 2
The Recycle Right Campaign has been created and designed to be shared -- in emails, on websites, and across social media. The social posts you see below were posted on Facebook and Instagram over the course of the previous week. You can share them directly on social media, or download the images and text to use in your own Recycle Right Campaign. You can also sign up for the bi-weekly Recycle Right Campaign Newsletter, which is a compilation of 2 weeks-worth of posts and videos over the course of the full campaign, with 10 emails in total.
How to use the following image posts in 3 easy steps:
1. Drag the image onto your desktop or right-click and save it.
2. Upload the image to your email, website, or Instagram OR click the "SHARE" button to share the whole post on Facebook!
3. Copy and paste the text found below each image onto your post.
Bonus: Each post includes ready-made hashtags to be used on social media.
---
Social Posts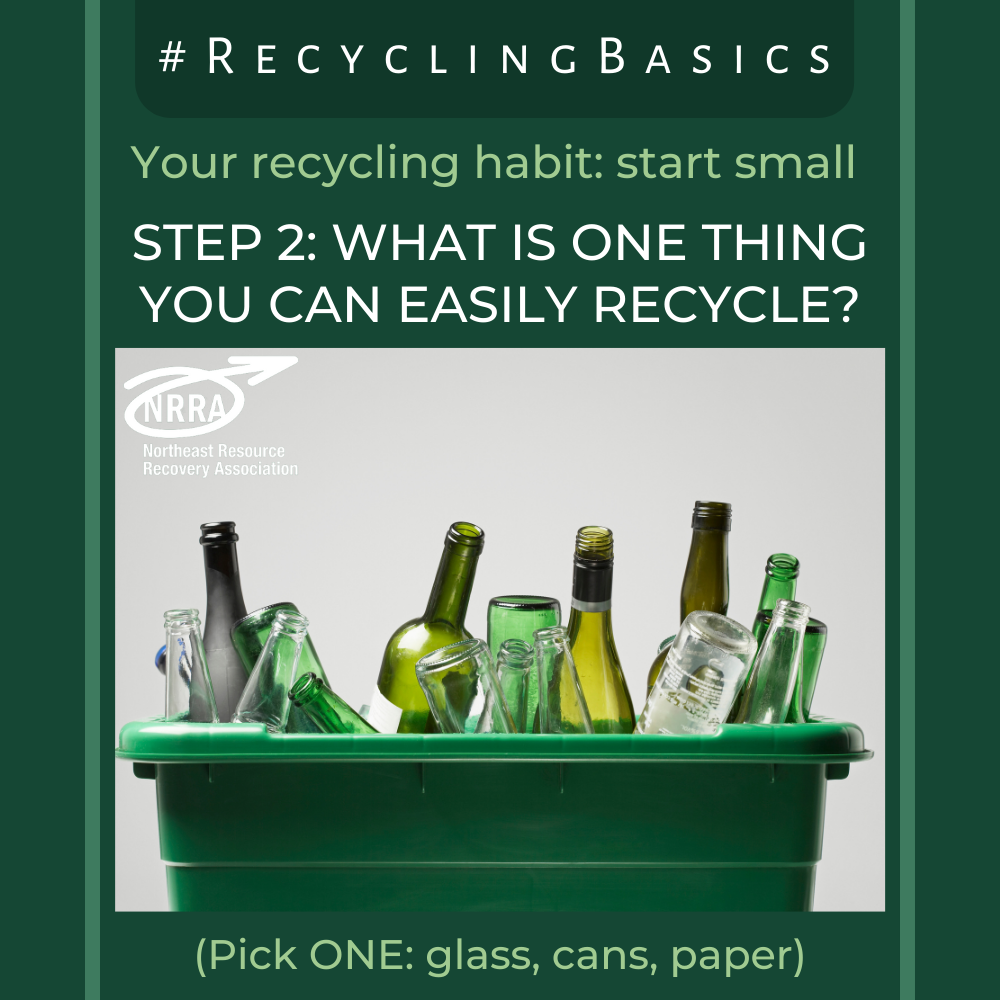 RECYCLING BASICS: When it comes to setting up your Recycling Habit - start small!
You've looked up where to send your recyclables in your town or city - either through a curbside recycling program, or bringing them to your local transfer station or recycling center.
Now it's time for STEP 2: pick ONE thing you can easily recycle!
CHOOSE FROM: GLASS, CANS, PAPER
Look around your home - what is something that wouldn't take much effort to recycle. Perhaps it's your daily newspaper, maybe it's aluminum soda cans, or a few glass bottles each week.
**Why don't we suggest recycling plastic? Have patience! Plastic can get confusing, so we're starting with the easiest recyclables and working our way up as your recycling habit is established.
#nrrarecycleright #nrrarecycles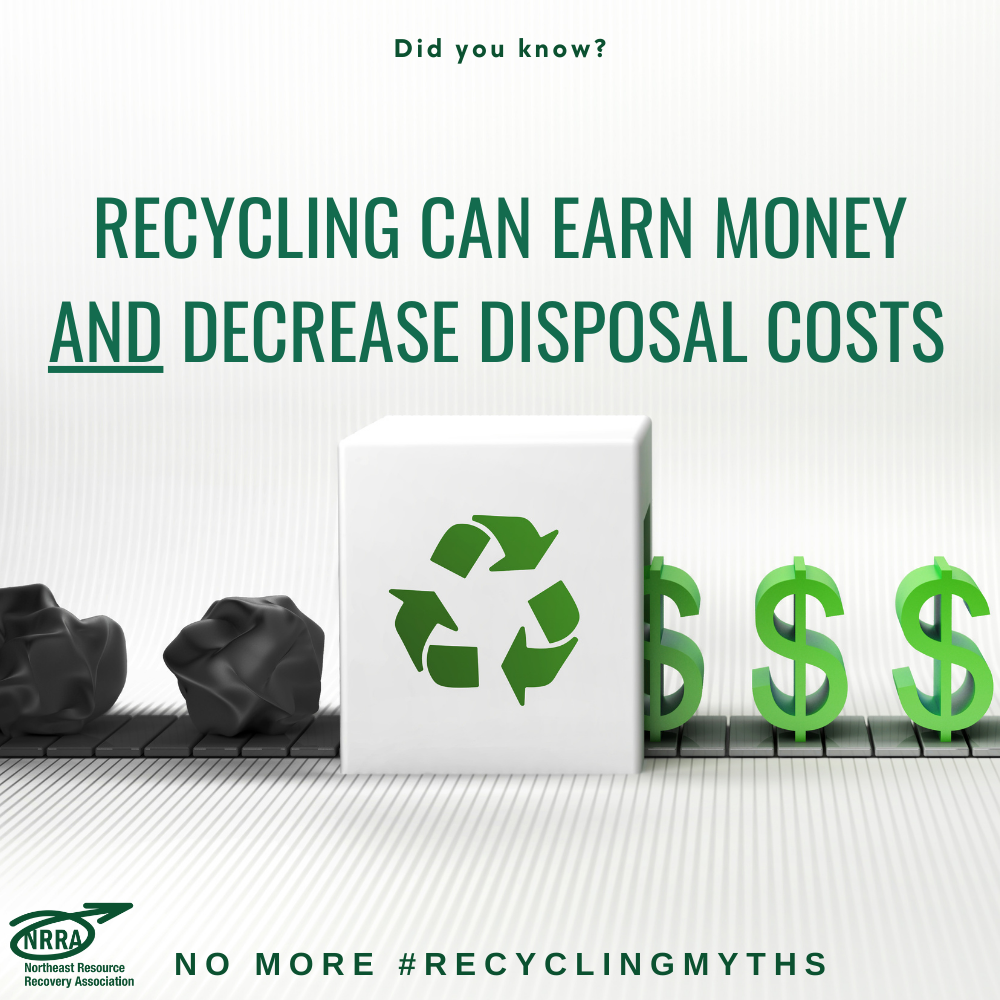 Did you know? Recycling can EARN MONEY and DECREASE DISPOSAL COSTS for a town or city!
- Revenue is earned by selling high quality recyclable material to responsible vendors.
- Disposal costs (how much it costs for waste to be landfilled or incinerated) are decreased as material is diverted from the solid waste stream and is recycled instead.
The combination of revenue from recycling and decreased costs by avoiding disposal, plus the environmental benefits of recycling, makes a strong case for why EVERYONE should recycle.
You don't have to recycle everything. You don't have to recycle perfectly. But if everyone in a town or city did their part by recycling SOME, it would have a significant impact both environmentally and financially!
#nrrarecycles #nrrarecycleright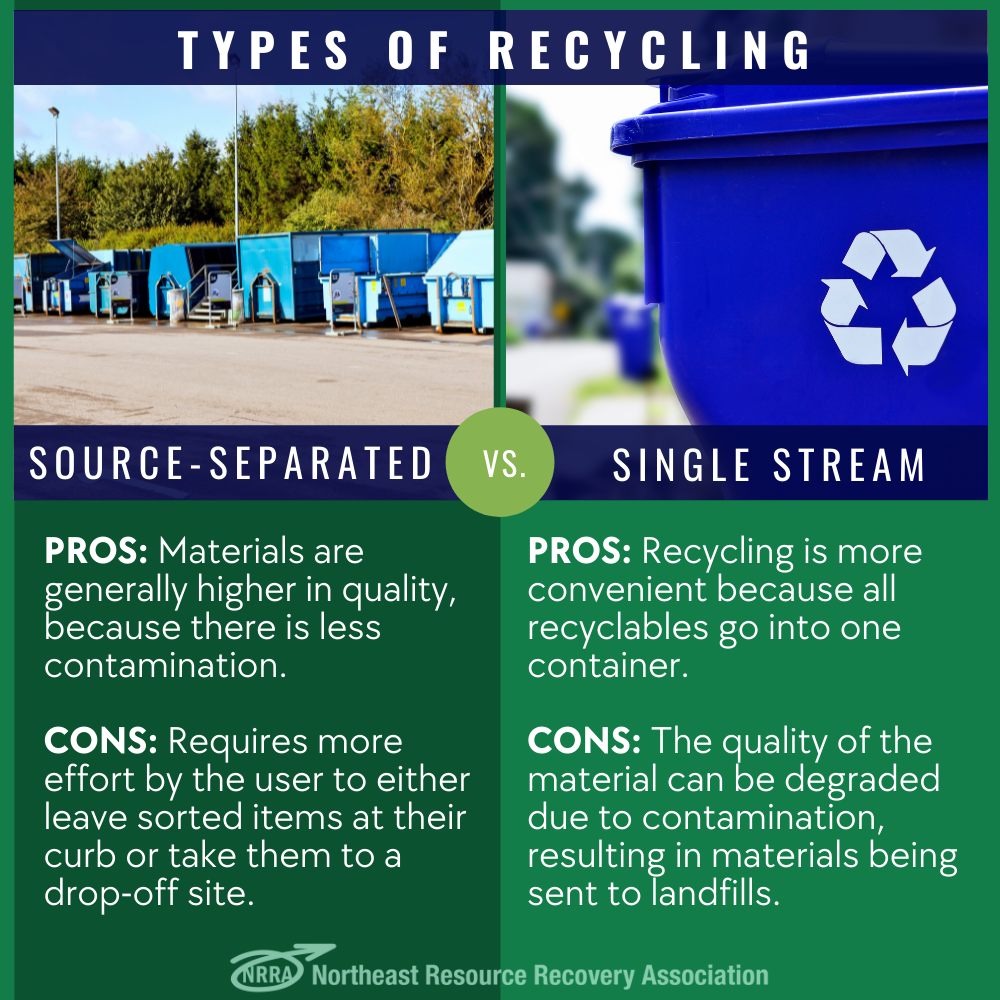 Let's Talk TYPES of Recycling!
Though we talk about recycling every day around here, recycling can look very different from town to town or city to city.
There are 2 main types* of recycling: Source-Separated and Single Stream
- SOURCE-SEPARATED: residents bring their recyclables to a transfer station or recycling center and separate the materials there. Some source-separated programs have curbside pick-up of already sorted materials.
- SINGLE STREAM: residents put all of their recycling together into one container that is picked up weekly from the curbside or alley.
There are benefits and costs - pros and cons - to both types.
PROS:
- Source-Separated recycled materials are generally higher in quality and value because there is less contamination.
- Single Stream recycling is more convenient because all recyclables go into one container, which can mean increased resident participation.
CONS:
- Source-Separated recycling requires more effort by the resident to separate their own materials and bring their recyclables to a drop-off site or to leave them curbside after sorted.
- Single-Stream material quality can be degraded due to contamination, resulting in materials being sent to landfills rather than recycled. This can also be a more expensive option, since it requires additional machinery and labor to separate materials.
Some communities even have a combination of single-stream and source-separated recycling, depending on the materials.
-------
* There is a third type of recycling called "zero sort" where garbage and recyclables are all put into the same container and are separated in a facility. This can be very easy for residents to utilize, but results in high recycling contamination rates.
#nrrarecycles #nrrarecycleright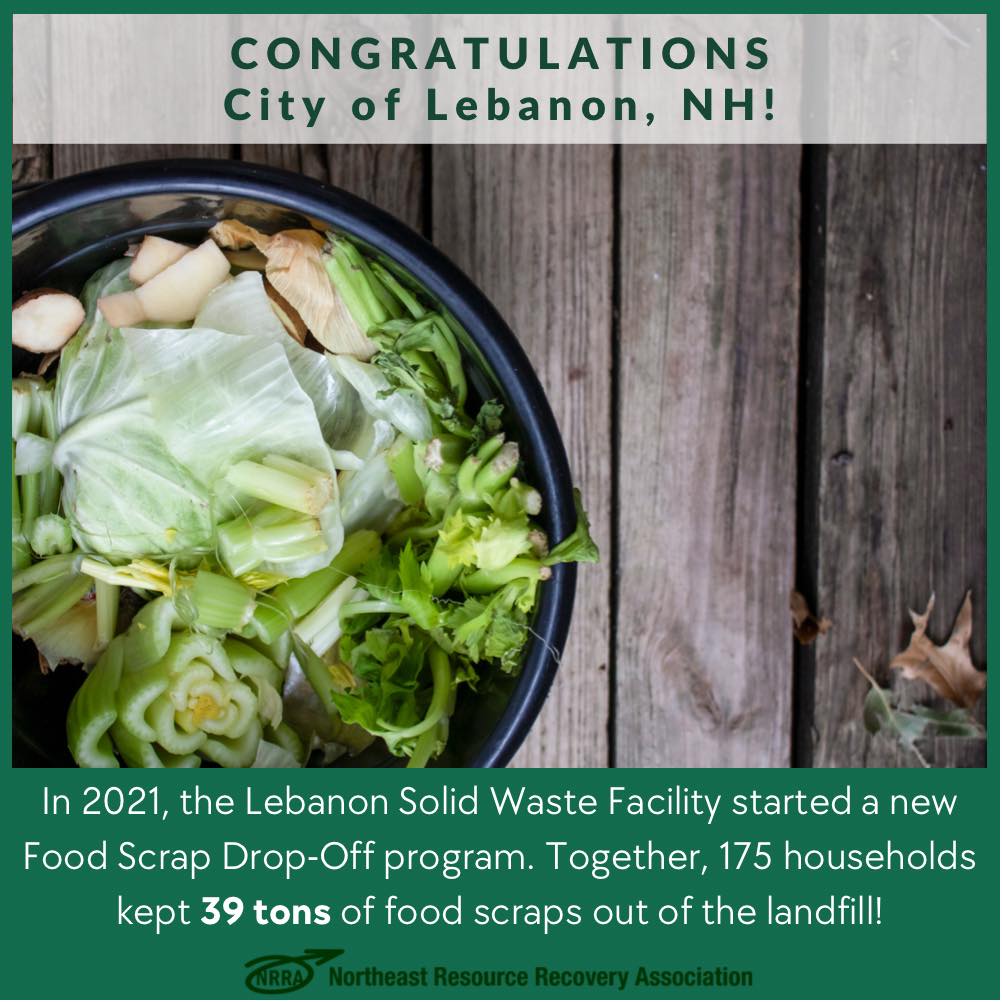 CONGRATULATIONS to Lebanon, New Hampshire!
We LOVE it when a community that's already doing a great job recycling strives to do even better! Last year, the Lebanon Solid Waste Facility started a new Food Scrap Drop-off program. 175 households piloted the program and helped keep 39 TONS of food scraps out of the landfill!
The EPA estimates that more food reaches landfills and incinerators than any other single material in our everyday trash, constituting 22 percent of municipal solid waste, so diverting this waste is hugely beneficial!
You can check out Lebanon's food scrap drop-off program here:https://lebanonnh.gov/1464/Food-Waste-Drop-Off-Program
#nrrarecycles #nrrarecycleright

---
Video
(You can access the Ask Me Anything: Recycling Edition video on our website or YouTube channel. If you are sharing on Facebook, we recommend using the SHARE button below, which links directly to the video on Facebook.)
Our first Ask Me Anything: Recycling Edition event was a HIT! Tune in as our panel of recycling experts answer audience-submitted questions about recycling. From the basics (What is recycling contamination?), to the nitty-gritty (Can mayonnaise jars be recycled? Where do egg cartons go?). From whether or not our recyclables really ARE being recycled, the financial and environmental costs, and much much more!
OUR RECYCLING EXPERTS:
- Reagan Bissonnette is the Executive Director of the Northeast Resource Recovery Association (NRRA). Reagan writes and speaks extensively about recycling and waste reduction, including in regional and national forums. She is a member of the New Hampshire Solid Waste Working Group, which is responsible for assisting the New Hampshire Department of Environmental Services with solid waste planning and policy initiatives.
- Bonnie Bethune is the Senior Member Services Representative of the Northeast Resource Recovery Association. She assists NRRA's municipal members with a wide variety of technical assistance and cooperative marketing and purchasing needs. This includes marketing tractor-trailer loads of recyclable material to environmentally sound vendors, providing hands-on technical assistance to help solid waste facility operators improve their solid waste management and planning, and coordinating household hazardous waste events for municipalities.
- Marc Morgan is the Solid Waste Manager for the City of Lebanon, NH. Marc has worked in the solid waste/recycling industry for more than 25 years with a focus on the development of recycling and waste reduction programs.
#nrrarecycleright #nrrarecycles

---
This material is based upon work supported under a grant by the Rural Utilities Service, United States Department of Agriculture. Any opinions, findings, and conclusions or recommendations expressed in this material are solely the responsibility of the authors and do not necessarily represent the official views of the Rural Utilities Service. Rural Community Assistance Partnership, Inc., is an equal opportunity provider and employer.