Recycle Right Campaign: Week 3
The Recycle Right Campaign has been created and designed to be shared -- in emails, on websites, and across social media. The social posts you see below were posted on Facebook and Instagram over the course of the previous week. You can share them directly on social media, or download the images and text to use in your own Recycle Right Campaign. You can also sign up for the bi-weekly Recycle Right Campaign Newsletter, which is a compilation of 2 weeks-worth of posts and videos over the course of the full campaign, with 10 emails in total.
How to use the following image posts in 3 easy steps:
1. Drag the image onto your desktop or right-click and save it.
2. Upload the image to your email, website, or Instagram OR click the "SHARE" button to share the whole post on Facebook!
3. Copy and paste the text found below each image onto your post.
Bonus: Each post includes ready-made hashtags to be used on social media.
---
Social Posts
Your Recycling Habit: MAKE IT EASY - CREATE a DEDICATED RECYCLING SPACE
Now that you know WHERE to bring your recycling (curbside, a recycling center, or transfer station) and you know WHAT you'll be recycling (paper, glass, or aluminum) it's time to figure out HOW you will store it during the week.
At home recycling collection bins can be as simple or specific as you'd like!
Some easy upcycled examples include:
- Paper bags to hold paper recycling
- An extra waste bin to hold aluminum cans
- An old wooden box for glass bottles
Tuck your recycling bin somewhere that is both out of the way enough, so you aren't annoyed, but close enough that you'll remember to use it such as under the sink, next to the garbage can, or an unused corner of the countertop.
If you have curbside recycling, your container may be provided to you from your town or city free of charge - contact your recycling provider to find out.
You can also purchase a new recycling bin, just be sure you have a good place for it to live!
---------
Your Recycling Habit is off to a strong start:
STEP 1: Find out WHERE to recycle in town.
STEP 2: Pick ONE thing you can easily recycle (pick one: glass, paper, cardboard, aluminum cans)
STEP 3: Create a dedicated recycling space.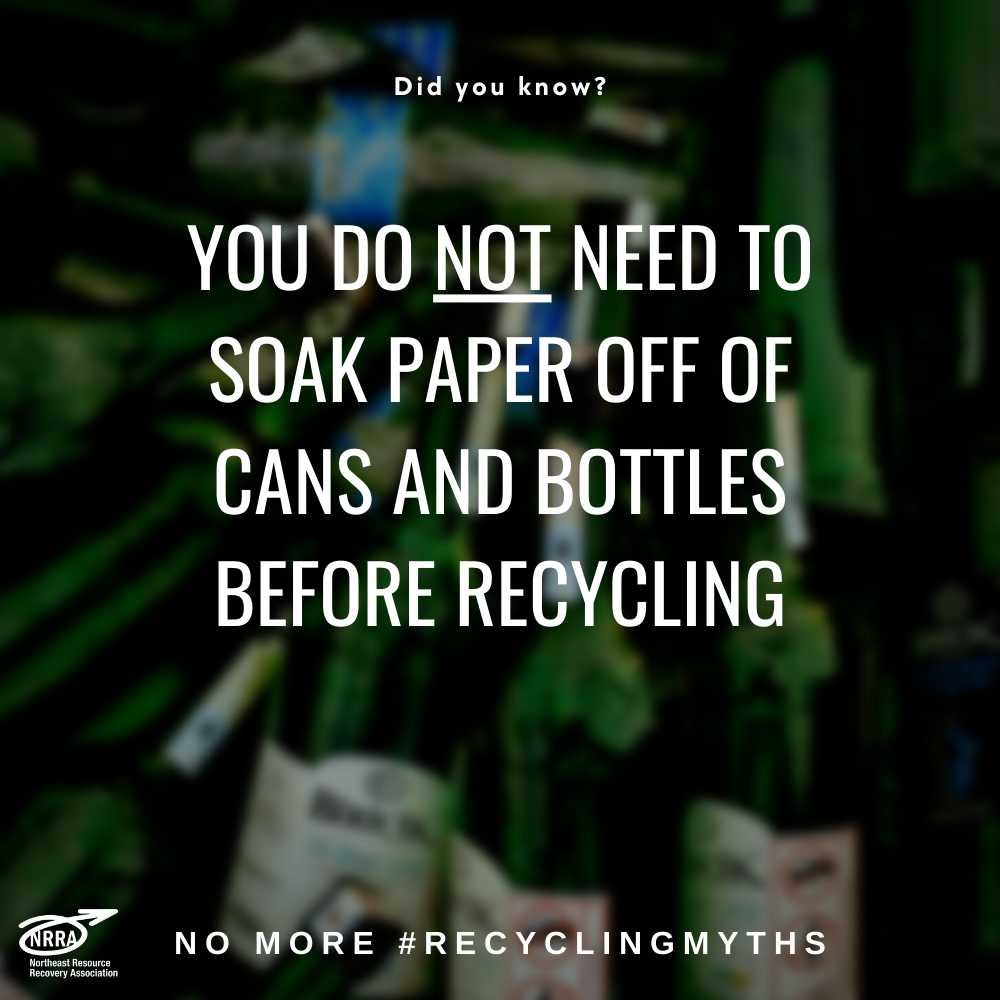 WE ARE GOING TO MAKE YOUR RECYCLING LIFE EASIER: You do NOT need to remove PAPER labels from aluminum or steel cans or glass jars and bottles prior to recycling!
Unless your recycler or transfer station specifically tells you otherwise, you can leave those paper labels be! We are all for making recycling easier for everyone, so if removing labels is a hassle for you, check it off of your list of things to worry about.
Just make sure you
empty
that glass or aluminum can, jar, or bottle and toss it in the recycling bin, label and all.
Why can we leave the labels? When glass and aluminum is processed, there is often a heating portion of the process, which will remove any paper labels or sticky residue from the can, jar, or bottle.

Residents of Tuftonboro, NH recycled 5.2 TONS of scrap metal in 2021! By recycling instead of trashing, they conserved enough energy to power a car 57,233 miles. That's like driving across the United States of 19 times! WOW!!
Every small action adds up to something big. It took each resident committing to recycling to achieve this fantastic
#RecyclingWin
As more residents recycle, even more energy is conserved as recycled materials get a second (or third) life as a new thing!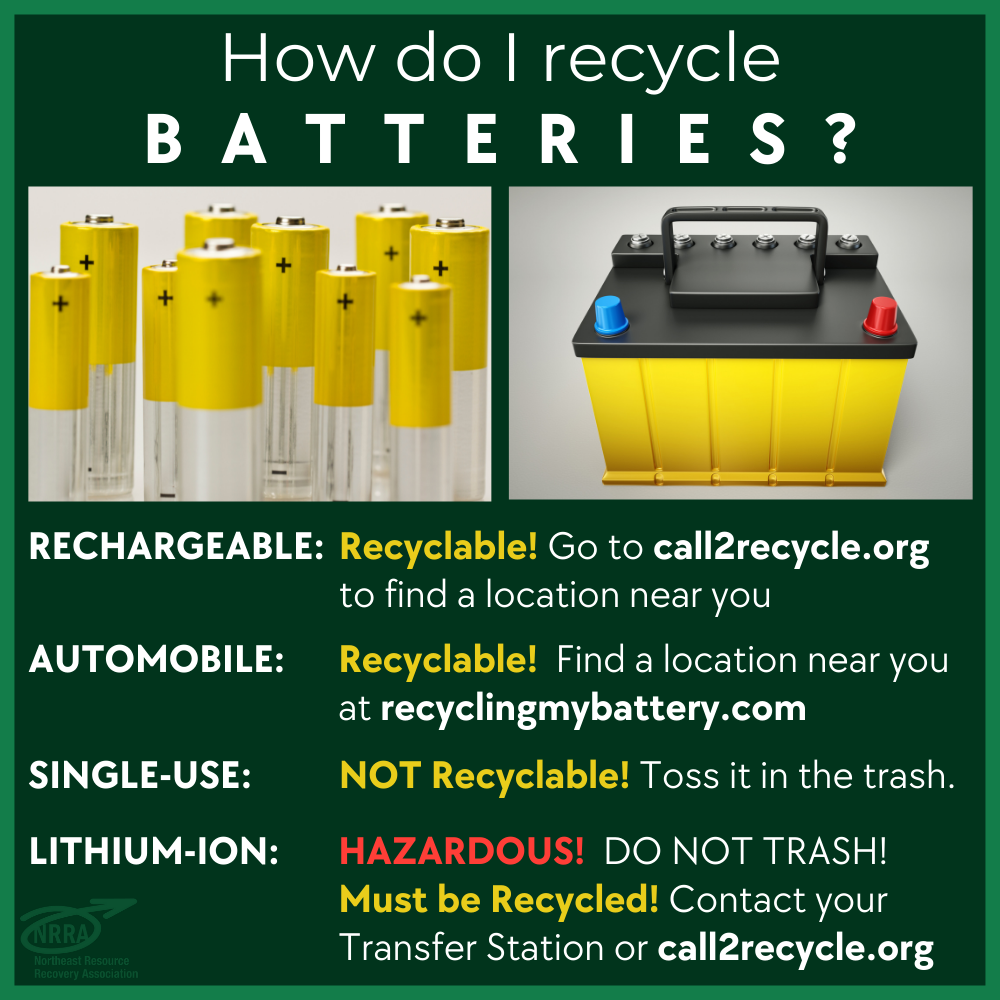 HOW DO I DISPOSE OF BATTERIES? (and why it's SO important!)
Every year fires caused by improper battery disposal cost waste, recycling, and scrap operators over 1.2 billion dollars?!
Properly disposing of your batteries saves money and lives, by lessening the chance of a fire breaking out at a facility. Here are the details:
• WHAT BATTERIES CAUSE FIRES?
Lithium-ion batteries found in phones, laptops, cameras, power tools, and tablets are the biggest culprits.
• HOW DO LITHIUM-ION BATTERIES CATCH ON FIRE?
The Lithium-ion and lithium polymer batteries in these items are often encased in a soft pouch that, when punctured, allows air to reach the battery – causing a chemical reaction that leads to sparks, fire and sometimes explosions. The fire produces toxic smoke.
When batteries are improperly thrown away, they end up in our waste transfer stations and landfill. As waste is compacted and moved with heavy equipment, the pouch encasing the batteries can be punctured and start a fire.
• HOW DO I DISPOSE OF THESE OLD BATTERIES?
First, figure out what type of battery you have! Is it rechargeable? Car battery? Single use? Or a lithium battery?
RECHARGEABLE BATTERIES:
These can be recycled once they have reached the end of their life and no longer hold much of a charge. Many big box stores like Home Depot, Lowes, or Staples will take these rechargeable batteries back. Find a location near you:
call2recycle.org
CAR (or boat) BATTERY:
These can also be recycled - you can often take them back to your car dealership or mechanic. You can also find a take-back location near you:
recyclingmybattery.com
SINGLE USE BATTERY: NOT recyclable. You can toss these batteries in the trash. To be extra careful, wrap a piece of tape around the battery to cover both poles.
LITHIUM BATTERY:

HAZARDOUS - DO NOT PLACE IN TRASH

!!
These batteries must be handled carefully. Contact your transfer station, recycling program or
call2recycle.org
to find a drop-off location near you. DO NOT just toss these in the trash - one battery can make a difference in the WORST way.

**BONUS: Thanks to community feedback, we've created a POSTER you can download and print out in color or black and white to hang at your local transfer station or recycling center (ask permission prior to hanging, of course!) The poster measures 18" by 24". You can also bring the pdf file to your local printing company to have it professionally printed for a small cost. Enjoy!
---
Video
Our latest short video is live on our YouTube Channel and Facebook. Our video includes Closed Captioning and Subtitles in increase access. The social post for the video is below. If you would like to SHARE the video on Facebook, please use the "Share" button at the bottom of the post.
This short video breaks down the WHAT and WHY of source-separated recycling.
Perhaps you've heard the term "source-separated recycling" or have seen posts about bringing one's recycling to a "transfer station" - but what does it mean and why do some towns use source-separated recycling rather than single-stream (all recyclables in the same container) recycling? You posed the question, now we have the answer!
---
This material is based upon work supported under a grant by the Rural Utilities Service, United States Department of Agriculture. Any opinions, findings, and conclusions or recommendations expressed in this material are solely the responsibility of the authors and do not necessarily represent the official views of the Rural Utilities Service. Rural Community Assistance Partnership, Inc., is an equal opportunity provider and employer.