Wilton Solid Waste District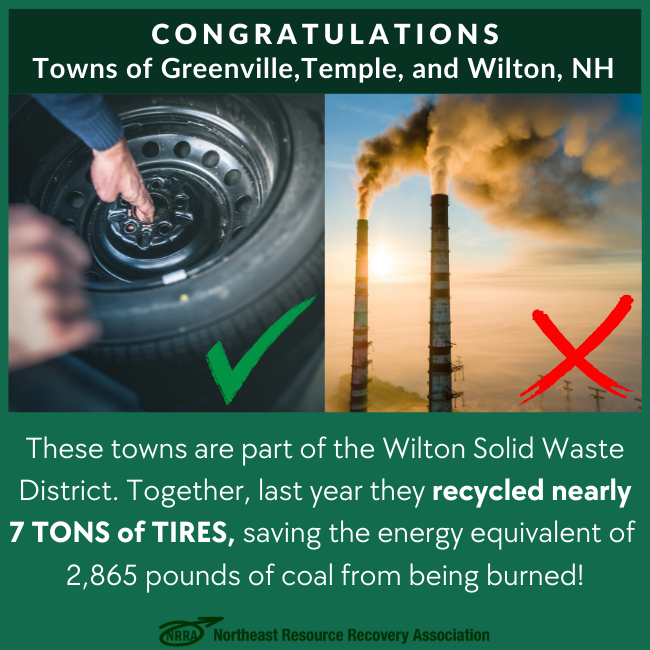 Download Image
♻️ SHOUT OUT TO WILTON, GREENVILLE, TEMPLE, NH & THE ENTIRE WILTON SOLID WASTE DISTRICT! ♻️

The Wilton Solid Waste District is a great example of New Hampshire towns working together to manage their solid waste and recycling. Last year, the towns that make up the Wilton SWD recycled nearly 7 TONS (or 14,000 pounds) of tires! By recycling instead of burning or landfilling, they saved the energy equivalent of burning 2,865 pounds of coal. WOW!!

FUN FACT: Recycled tires can be turned into all sorts of things - from turf and walking paths, to rooftops and gym flooring. You've probably walked on recycled tires recently without even knowing it!

KEEP IT UP, WILTON, TEMPLE, GREENVILLE, AND THE WHOLE WILTON SWD!!
This material is based upon work supported under a grant by the Rural Utilities Service, United States Department of Agriculture. Any opinions, findings, and conclusions or recommendations expressed in this material are solely the responsibility of the authors and do not necessarily represent the official views of the Rural Utilities Service. Rural Community Assistance Partnership, Inc., is an equal opportunity provider and employer.