Town of Rollinsford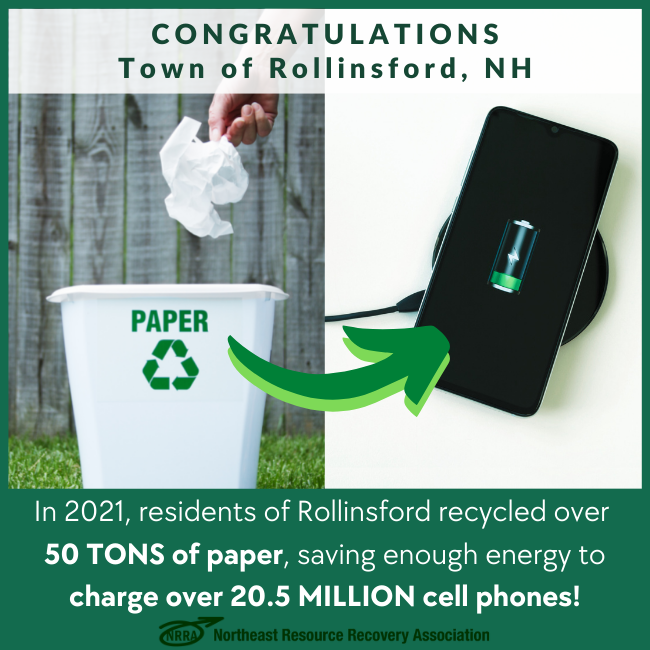 Download Image
♻️ ROLLINSFORD RESIDENTS CLEARLY KNOWS THE BENEFITS OF RECYCLING!! ♻️

The Town of Rollinsford knocked it out of the park when it comes to paper recycling in 2021! Together, they recycled 50 TONS of paper, saving enough energy to charge over 20.5 MILLION cell phones! AMAZING!!

FUN FACT:
According to the University of Southern Indiana, "each ton (2000 pounds) of recycled paper can save 17 trees, 380 gallons of oil, three cubic yards of landfill space, 4000 kilowatts of energy, and 7000 gallons of water. This represents a 64% energy savings, a 58% water savings, and 60 pounds less of air pollution!" Paper can be recycled over and over again - up to 6 times!

KEEP IT UP, ROLLINSFORD!!

**Recycling helps reduce greenhouse gas emissions by reducing energy consumption. Using recycled materials to make new products reduces the need for virgin materials. This avoids greenhouse gas emissions that would result from extracting or mining virgin materials.
This material is based upon work supported under a grant by the Rural Utilities Service, United States Department of Agriculture. Any opinions, findings, and conclusions or recommendations expressed in this material are solely the responsibility of the authors and do not necessarily represent the official views of the Rural Utilities Service. Rural Community Assistance Partnership, Inc., is an equal opportunity provider and employer.