Walpole's Facility Tour at September MOM Meeting
NRRA's September Member Operations Marketing (MOM) meeting was held on a beautiful sunny morning at Walpole, NH's Recycling Center and Transfer Station. The highlight of the meeting was a tour of Walpole's new Reuse Center and other facility improvements led by Ben Hoy, Recycling Manager. The facility is known to have a hearty supply of volunteers to assist with its programs along with knowledgeable staff consisting of Patty Whitcomb, Shaena Hakey, and Tom Donovan.
The MOM meeting was held on a paved work area behind the facility, which is used to help with loading storage containers of baled recyclables. A concrete pad expansion was added for the municipal solid waste compactors to help in packing out compactors and switching them out when they are full.
Walpole's Reuse Center was damaged in a storm when a tree came down on it. Luckily, no one was hurt. Walpole decided to use the insurance funds to rebuild the swap shop using logs from the tree that fell down in the beams and the trim. Today they have a unique, well-stocked building – they made lemonade out lemons! They charge $1 for softcover books and $2 for hardcover books and have earned $3,000 from books and $8,000 from other items. Staff records the weight of items not thrown away as municipal solid waste, so they can show the revenue they are earning and the diversion rate in Walpole.
Residents inquire regularly about the full cycle of their recycling efforts, so Ben recently hired a film crew to educate residents in a video about what happens after they drop off their cardboard and plastics. Recycling markets change often, but Ben was able to capture a moment in time to share with residents. In addition to the video below, you can also go to YouTube and search for Walpole Plastic, or Recycle Plastic Walpole. NRRA encourages all of our member operators to use signs, displays, sandwich boards, videos, and Facebook posts to help educate their residents about what is going on in their towns.
When asked about processing techniques, Patty showed members how Walpole uses their 4' by 4' metal cages to temporarily store loose material before it is ready to be baled. For example, thirteen 4' by 4' cages are used to make one PET plastic bale that weighs 475 pounds. The facility tour ended in a quiet garden dedicated to one of the town's first recyclers, George Watkins. Flowers and rocks adorn this spot so that residents can relax after recycling. Walpole offers many recycling and reuse programs for residents and many of those materials are marketed through NRRA. Thanks, Walpole!
MOM meetings are open to all NRRA voting municipal members. Consider joining us at our next MOM meeting on October 13 at the Henniker, NH Transfer Station.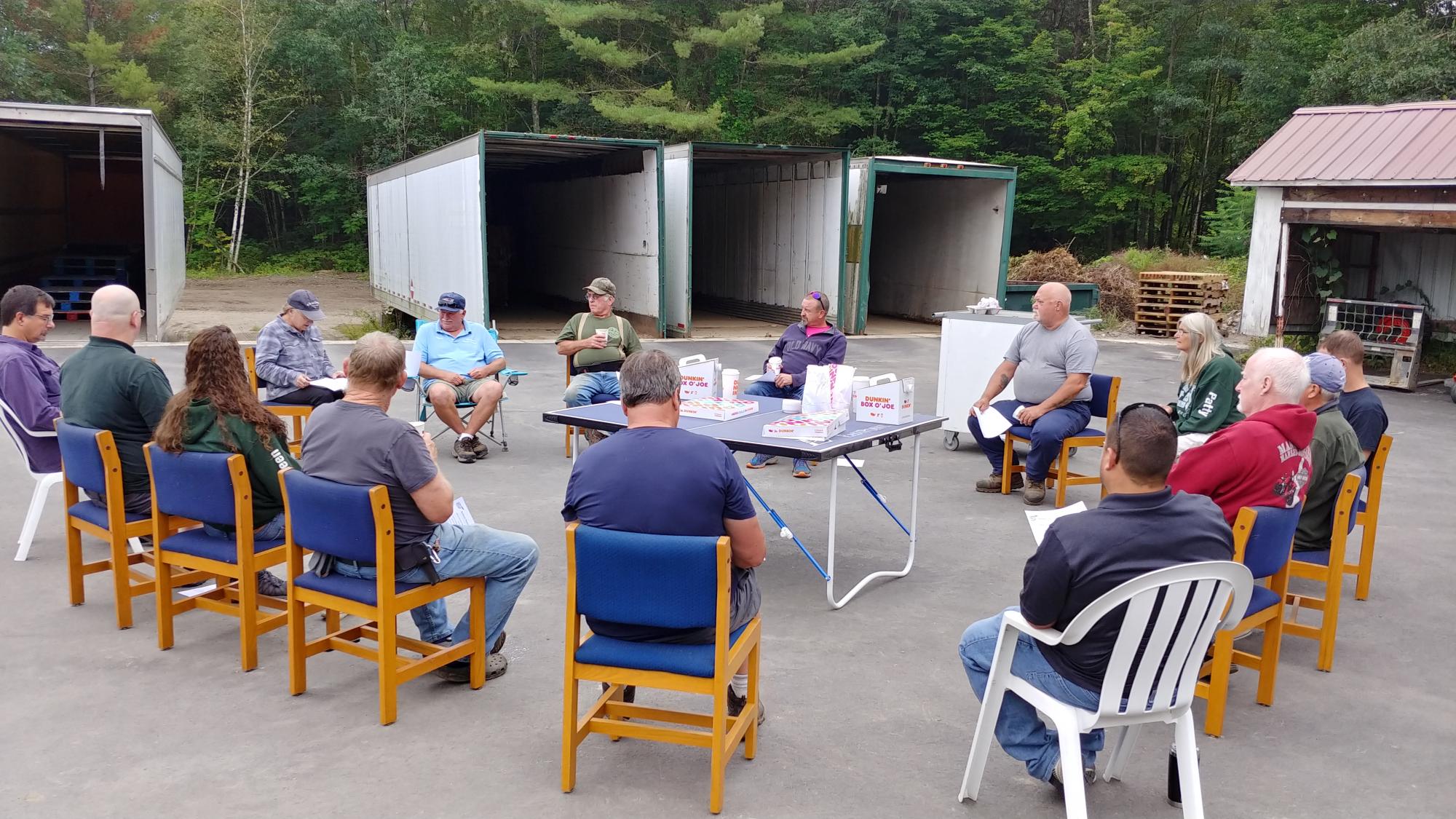 This material is based upon work supported under a grant by the Rural Utilities Service, United States Department of Agriculture. Any opinions, findings, and conclusions or recommendations expressed in this material are solely the responsibility of the authors and do not necessarily represent the official views of the Rural Utilities Service. Rural Community Assistance Partnership, Inc., is an equal opportunity provider and employer.