NRRA Attends Resource Recycling Conference: A Recap
Executive Director, Reagan Bissonnette, and Member Services Manager, Brian Patnoe, had a great trip to the Resource Recycling Conference in Orlando, Florida. It was a whirlwind trip, as they were in Orlando for less than 48 hours, but they really made the most of their time!
Connecting in person with people and learning from them was the most valuable part of the conference, followed by the formal educational workshops. Being able to connect with industry colleagues while learning about big-picture challenges and solutions in the field of recycling and solid waste diversion allows our organization to better inform our members. It's also important that we are able to share the realities of recycling in small, rural communities such as those found in New Hampshire.
There were very few attendees from the northeast, so Reagan and Brian made a point to connect with Jen Heaton-Jones and Rick Watson from CT and Delaware, respectively (pictured). They also connected with NRRA associate member Adam Clark from Concord, NH.
Brian and Reagan also had a chance to meet up with two NRRA vendors - staff from URT and Ed Pope from Pinpoint Wire. Ed agreed to send us one of his baling wire tools, which was the talk of NRRA's Annual Recycling Conference earlier in the year, so we can show it to members at MOM meetings and bring it to site visits as an example.
Reagan had good conversations with each of the two reporters at Resource Recycling. Articles from Resource Recycling are often included in
NRRA's bi-weekly Full of Scrap newsletter
, so it was nice to hear the reporters sharing good things to say about the publication.
Of particular interest to our municipal members, Reagan and Brian met with The Recycling Partnership staff to learn the latest about grant opportunities for rural communities. We are excited to share more details of a new rural grant they are offering in the coming weeks! Additionally, this year, Brian was chosen to receive a Steve Thompson Memorial Grant from
The Recycling Partnership
to attend the Resource Recycling Conference. In fact, he was one of the only grant recipients from New England!
One of the highlights of the conference was an animated Tuesday lunch. Reagan had reached out to every state recycling organization (SRO) staff member in attendance to invite them to join her and Brian at lunch and attendees happily showed up. They ended up having 8 different SROs from across the country at their table of 10 people! It was interesting to discuss the similarities and differences between organizations. Others SROs have private industry representatives on their board, which NRRA does not. Many SROs also actively engage in lobbying. Some have partnerships with local US Composting Council affiliates. Others were surprised to learn about NRRA's unique cooperative marketing model. We all agreed it would be worthwhile to keep in touch and share information going forward.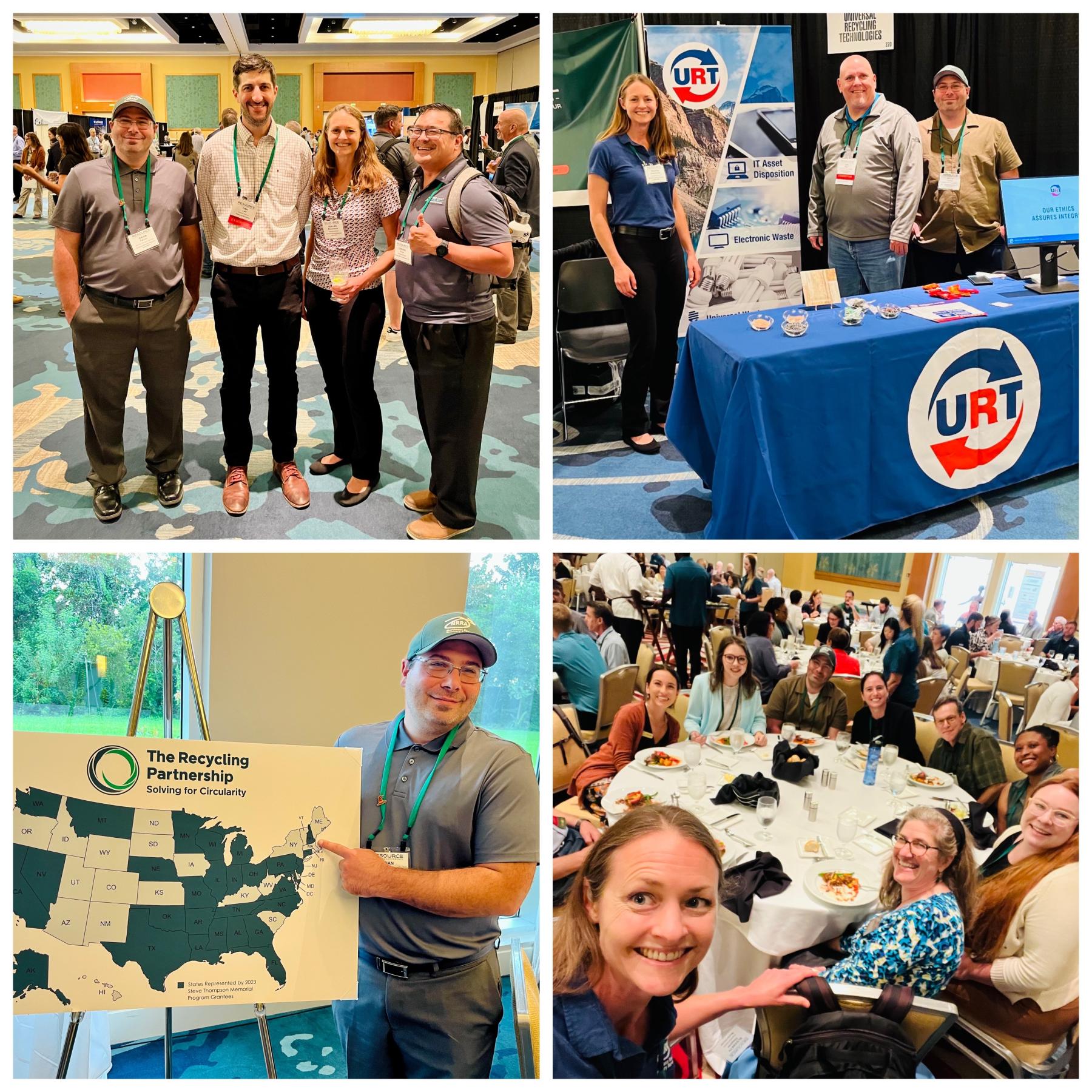 Pictured clockwise from top left: Brian and Reagan with Resource Recycling's Editorial Director, Dan Leif, and NRRA vendor, Ed Pope, General Manager at Pinpoint Wire Technologies; Reagan and Brian with NRRA vendor, URT; Reagan and Brian with gathering of SRO staff members from across the country; Brian pointing out NH at a Recycling Partnership grantee gathering at the Resource Recycling Conference.
In addition to the networking opportunities, the educational workshops held many gems of information that Reagan and Brian were able to bring back to share with our staff and members.
In "Measuring Up: Steps to Strengthening Industry Data," Reagan was intrigued to hear a representative from the American Forest & Paper Association note that the 93% OCC (Old Corrugated Cardboard) recycling rate they have promoted for years is actually closer to 80-85% when they excluded estimates of paper imported from abroad that gets recycled in the US. We have heard skepticism about the original 90+% recycling rate for OCC, and while the speaker defended the calculation method for that rate, the 80-85% sounds like a much more realistic number. She also found it interesting that about 85% of all OCC used in the US is used by businesses, with only 15% coming through residential programs.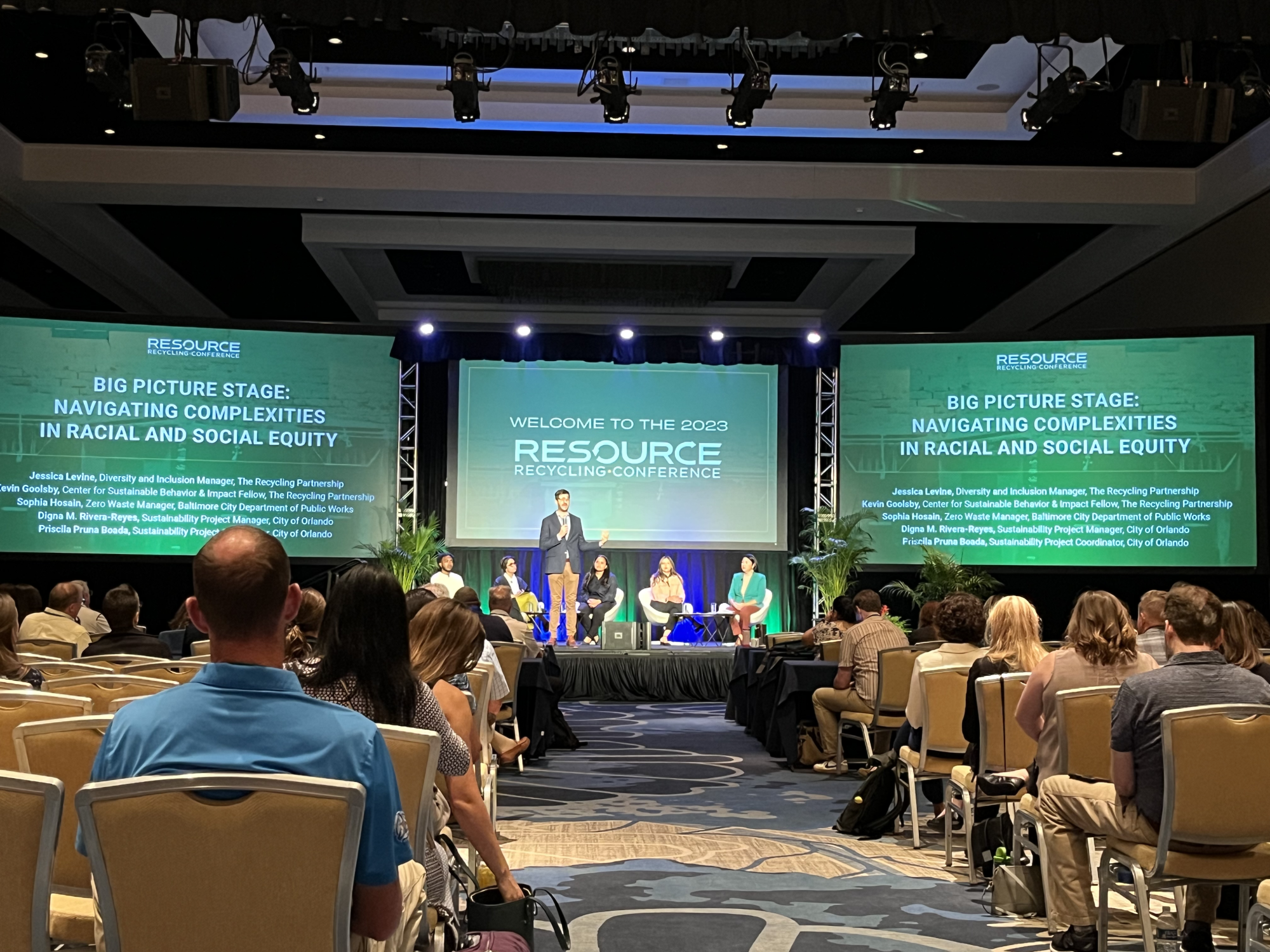 One workshop, "Navigating Complexities in Racial and Social Equity," shared a case study where the City of Orlando, Florida learned that predominantly white neighborhoods had higher recycling rates. Similarly, neighborhoods with higher education levels and more wealth had higher recycling rates. To increase recycling awareness, Orlando conducted targeted education including using billboards and murals in select neighborhoods. The City of Baltimore shared how they used high quality hybrid meetings to increase resident participation in conversations about recycling.
Another great workshop, "What's the Prognosis for Recycling Markets," focused on plastics and fibers. A plastics recycling analyst from ICIS noted that
while recycled plastic is almost always more expensive than virgin plastic, when the difference between the two grows more than 20%, companies tend to switch from recycled to virgin due to the increased cost delta.

Currently that difference is closer to 30%.
The hope is that prices will rise again as consumer brands continue to increase recycled plastic usage to meet their sustainability goals.
Regarding paper, a veteran industry speaker from RRS shared that old paper mills have been closing because they can't compete with newer mills coming on board.
When asked how communities can protect against market increases, speakers encouraged communities to work with nonprofit or public partners that compete against private companies to protect against for-profits dominating market pricing. They also stressed the value of education and transparency. All of these are benefits that NRRA provides to our members!