In Memory of Patrick Pinkson-Burke, Former NRRA Staff & Board Member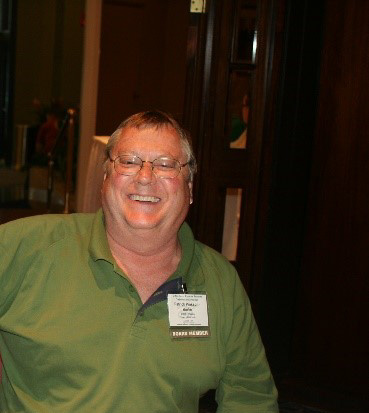 It is with heartfelt sorrow that I share the news of the passing of Patrick (Pat) Pinkson-Burke. Patrick died unexpectedly on February 22, 2021 at the young age of 71. As many of you may recall, Pat was an integral part of the NRRA for nine years having served a Member Services Representative in 1998 and 1999 and subsequently on NRRA's Board of Trustees from 2004-2011. I will always remember Pat's dedication, compassion, and kindness.
NRRA Trustee and former Board President Duncan Watson shared his memories of Pat. "Patrick and I were classmates in graduate school in the early 90's. We both found a passion in the world of recycling and solid waste management. A forever hippie who kept his eye on the precious earth we all share, Patrick made a difference and he will be sorely missed."
Former NRRA Staffer Susy Mansfield had the pleasure of working with Patrick as the duo teamed up to provide services to NRRA members, both holding the title of Member Services Representative. Susy recalls her fond memories of Pat. "It was my pleasure and honor to work as Patrick's partner during our days as Member Services Representatives for the Northeast Resource Recovery Association. Pat was exactly a year and a day older than I am, and we often celebrated our birthdays together. Cheerful in all weathers, always upbeat with his engaging smile, informed and knowledgeable about the recovery of resources and best environmental practice. The Recycling Community has lost a star and I have lost a friend. He'll be missed."
Marghie Seymour, former NRRA Trustee recalls that Patrick "was a kind, intelligent, dedicated man with a good sense of humor and dedication to his family and work".
It is obvious that Pat touched many lives and made a lasting impression on all who knew him. NRRA Member Services Manager, Bonnie Bethune, shared that "Pat was a big presence, not only for his stature, but for his enthusiasm about recycling and sharing that with others."
Cindy Sterling was a colleague of Pat's. She remembers him for being "an avid solid waste "person", the first facility manager at the Lamoille Regional Solid Waste Management District. He could morph into any job and excel at it. His expertise will be missed, as will his friendship and sense of humor."
Please join us in taking a moment to honor Patrick's memory. His obituary can be found at the link below. From all of us at NRRA, Thank you, Pat. You will be missed!
https://www.vnews.com/patrick-pinksonburke-obit-vn-022621-39083210
Paula J. Dow, Finance & Human Resource Manager